Status of legal challenges to the health insurance reform law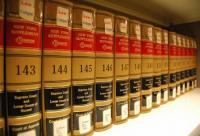 The ink used to sign the Affordable Care Act into law was barely dry before opponents – from state legislators and religious groups to anti-abortion activists and private citizens -- began filing lawsuits charging that the legislation was unconstitutional.
In the first challenge heard in court, Thomas More v. Obama, a federal judge in Detroit ruled Oct. 7 that the reform law's insurance mandate met the constitutional standard. The Christian law firm that filed the suit says it plans to appeal.
TPM.com has summarized the five known lawsuits challenging the law.
"The constitutional challenges to the health care reform law fall generally into two categories," according to TPM's Brian Beutler. "In the first, states claim that their own laws trump the federal law -- an argument that legal experts consider to be almost a sure loser. The second argument is that the insurance mandate exceeds the power given to Congress in the Commerce Clause. That argument is less radical than the first, but is rooted in contemporary conservative legal philosophy that courts have occasionally validated in recent years, albeit under limited circumstances."
Full story: TPM's Guide To The Major Health Care Reform Lawsuits.