Most Americans see health insurance reform as a good first step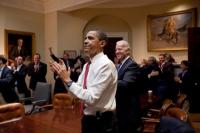 Now that a health insurance reform bill was signed into law today, a new Gallup poll reports that Americans wanted health insurance reform. A poll conducted by the group on Monday and released today found that Americans believe (49 to 40 percent) reform is "a good thing" rather than a bad one.
On March 9, Gallup had reported 48 opposed and 45 favored the plan.
While those who have worked the hardest for comprehensive reform seem pleased that something was finally done to fix some of the most egregious aspects of the current system (denial of coverage for pre-existing conditions; unaffordable costs for small business for providing coverage to their employees; the coverage gap, or "doughnut hole" in the Medicare Part D drug benefit for seniors; and exorbitant insurance company overhead for bureaucracy and marketing) they see it only as a first step to broader reforms that are needed.
Rep. Dennis Kucinich (D-Ohio) co-sponsored a universal Medicare-for all type plan. After deciding last week to support the president's plan, he said: "I have doubts about the bill. This is not the bill I wanted to support.
"If my vote is to be counted, let it count now for passage of the bill, hopefully in the direction of comprehensive health care reform."
Sen. Bernie Sanders (I-Vermont): "The bill is not as strong as I wanted and I will work to improve it, but it begins to move this country toward the long-time goal of providing comprehensive, affordable health care for all Americans. We can do better, but this is an important step forward."
Sanders had introduced a single payer bill in the Senate. He championed a major provision which is in the new law that allocates over $12 billion for expansion of community health centers and doubles the number of patients receiving primary care, dental care, mental health counseling and low-cost prescription drugs.
Michael Moore: "I wanted people to vote for this in Congress. But I'm saying that with many, many reservations. I believe this bill is two steps forward and one giant step backwards ... We do not have universal health care in this country tonight as a result of this bill. In fact, we do not have any real overhaul of our health care system."
Moore helped galvanize the public to act on health insurance reform with his documentary "Sicko," released in 2007. The film compared U.S. for-profit health care with other nations.