Murdoch in Free Fall - Credibility Gone Billions to Follow
Time is running out for Rupert and James Murdoch. The evidence they offered Parliament in July is being challenged as fiction and their News Corporation empire is going to take some major revenue hits.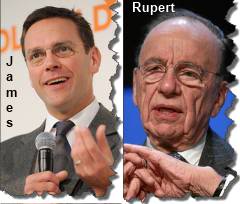 Rupert and James Murdoch conjured up a fictional report that serves as the fig leaf used to cover the naughty secret of News Corporation –- they never investigated phone hacking in general and they never tried to clean house.
The House of Commons committee investigating Rupert Murdoch's United Kingdom media properties released new evidence this week. The evidence elaborates on themes generated at the committee hearing of July 19 and adds new information to the toxic brew that threatens to drown the largest media company in the world. (Images: Hubert Burda Media, L, World Economic Forum)
At the July 19 hearing of the House of Commons Media, Sport and Culture Committee (Commons committee), Member of Parliament (MP) Tom Watson asked both Rupert and his son James Murdoch if either was aware of the "for Neville" memo concerning the 2008 phone hacking settlement by the News of the World (NoW). The Murdoch paper's on-staff private detective, Glenn Mulcaire, was caught tapping the voicemail of Gordon Taylor, chief executive of the Professional Footballers Association.
Rupert and James Murdoch both denied any knowledge of the memo prior to the extraordinary £725,000 out of court settlement of the Taylor suit.
The memo described, "… the way senior staff at the NoW had been involved in systematic hacking – the very thing the paper had been strenuously denying all along, not only to Taylor's lawyers, but to its readers, parliament and public." (Guardian.co.uk, July 22)
Had either Murdoch seen the summary legal memo seeking approval of the Taylor settlement, they would have known that NoW was involved in widespread phone hacking and other illegal surveillance of news figures. That would contradict their ongoing denials that these illegal activities were common practice. More troubling, if true, it would mean that one or both of them lied at the July 19 hearings of Commons committee.
This seemed to be the most explosive issue to be addressed by the evidence released by the Commons committee this week. As it turns out, there is even more devastating evidence of what seems like unmistakable, broad based deception of the House of Commons by the Murdochs starting in 2009.
Bad News for News Corporation from New Documents Released
Tuesday's release of information contains letters from former NoW legal executive Tom Crone and former NoW editor Colin Myler that are unambiguous. Both were sure that James Murdoch had reviewed the "for Neville" memo outlining the rationale for a huge settlement in the Taylor phone hacking case. Crone said, "I have no doubt that I informed Mr. [James] Murdoch of it's existence [the memo], of what it was, and where it came from." (letter to Commons Committee, August 6). James Murdoch continues to claim he never saw the memo.
The evidence released contained a more sinister implication for Rupert and James Murdoch. They invented and described an investigation and report that provided NoW with a clean bill of health in 2007. There's just one problem with that assertion, according to the News International executives and outside counsel who supposedly conducted the investigation and provided a report. No such activities took place. No such report was issued. This is outlined in two documents.
The first document is from former News International legal executive Jon Chapman. (letter to Commons committee, August 11) In 2007, Chapman and the head of IT were tasked with reviewing emails relating to the trial of a NoW employee for phone hacking, Royal Family correspondent Clive Goodman.
Chapman details how this limited review of emails relating to one case has been trumpeted as a thorough general investigation of phone hacking and other intrusive practices. Chapman's letter cites extensive testimony by News Corporation executives at a 2009 Commons committee hearing claiming that the 2007 simple review was a major investigation and that NoW and News International thought there had been no broader illegal activity. Chapman makes clear that this was a limited investigation, a review of emails related to Goodman's case only, and that there was no exculpatory report on NoW's journalistic practices.
During the July 19 Commons committee testimony by Rupert and James Murdoch, there are clear references to a "report" from Chapman and outside counsel on the matter. In response to a question by Conservative MP Paul Farrelly (237) about investigations of phone hacking at NoW, James Murdoch responded: "I think it was Mr Chapman at the time, along with Mr Myler, who testified to this effect -- took a report. From then, the opinion was clear that as to their review, there was no additional illegality in respect of phone hacking in that file. As to their review, that opinion was clear. The company really rested on a number of things from then on." (Commons committee, July 19, p. 30)
James quotes a report that doesn't exist and a conclusion that could never be inferred from the limited review, as Chapman describes it. Of course, there was "no additional illegality" reported. The email review was focused only on one case, that of Clive Goodman. Through a slight of tongue, James implies that the Murdoch group had done their very best to investigate but could find no widespread hacking. This is pure fantasy.
Rupert Murdoch was asked about 2007 comprehensive efforts to assure there was no illegal surveillance. In response to a question from Mr. Farrelly (348) at the July 19 hearing, Murdoch says:
"Mr Chapman, who was in charge of this [the investigation of hacking etc.], has left us. He had that report for a number of years. It wasn't until Mr Lewis looked at it carefully that we immediately said, :We must get legal advice, see how we go to the police with this and how we should present it.:" (July19, p. 36)
Rupert takes a swipe at Chapman for sitting on the report that never existed for a period of time that is entirely irrelevant since there was no report in the first place. Like son, like father. This report is the fig leaf used to cover the naughty secret of News Corporation –- they never investigated phone hacking in general, never tried to clean house. Now, in the context of a real investigation, Rupert and James Murdoch are relying on a fictional report that Rupert claims was hidden for years. The report never existed. At the very least, they are showing extreme contempt for Parliament.
In their testimony on July 19, he Murdochs referenced their outside legal counsel in the context of the review of the email investigation, Harbottle and Lewis LLP. The law firm provided an utterly devastating response to the committee that supported Jon Chapman's version of events – a simple review of emails on one case, no wider investigation. The firm also added some devastating comments regarding how their involvement was used by News Corporation to imply some legal clearance. The law firm went further, clearly stating that it had never provided a "clean bill of health" to NoW.
"There was absolutely no question of the firm being asked to provide News International with clean bill of health which it could deploy years letter in wholly different contexts for wholly different purposes. If News International had ever approached the firm (as it should have done) to seek consent for the 29 May 2007 letter being deployed before Parliament as evidence of its corporate innocence, the Firm would not have agreed without further discussion. The reason for that is that the exercise which was done in 2007 was simply not one which was designed to bear the weight which News International now seeks to place upon it." (Response of Harbottle and Lewis LLP to the Culture, Media and Sports Committee and Home Committee, pp. 9 , 10)
A Development to Watch in the United States
The Guardian reported that News Corporation had settled three law suits brought by competitors for a total of $655 million dollars. (guardian.co.uk, July 17) This is of interest since one of the cases, that of Floorgraphics, is being reviewed by the Department of Justice as part a broader investigation of the Murdoch companies requested by Senator John D (Jay) Rockefeller two weeks ago. How guilty do you have to be to offer up $655 million to avoid going to court?
A Murdoch Family Dilemma – The BSkyB Media Property
News Corporation views its US media properties as its prizes. However, there's considerable business at stake in the UK placed at risk by the charges of illegal activities and potential charges of contempt of Parliament. The corporation was candid about the risks their recent SEC filing. Deadline New York reported this from the News Corporation SEC Annual Report: "(We) are not able to predict the ultimate outcome or cost" of law enforcement investigations in the UK and U.S.," it says. The proceedings "could damage our reputation and might impair our ability to conduct our business" in ways that "could affect the Company's results of operations and financial condition."
An imminent risk is the highly profitable BSkyB cable network, the largest broadcaster in the UK. The are over 10 million subscribers and close to £5.9bn in revenue ($9.7 billion) for the 12 month period ending June, 2010. Pre-tax profits hit £875 million ($1.4 billion). News Corporation owns 39% of the network and planned to purchase the remaining 61% of the company, pending regulatory approval. That seemed a lock in January. After the Guardian's July 4 expose of NoW's phone hacking of the by then dead kidnap victim, Milly Dowler, things began to collapse. Just days after the Guardian article by Nick Davies, News Corporation announced it was withdrawing it's bid for the remaining 61% of the company.
James Murdoch is the Chairman of the Board for BSkyB. The board recently endorsed James and his position as chairman.
At stake now is the 39% ownership share currently held by News Corporation. By UK rules, the owner of major media properties needs to be a "fit and proper person."
Damian Collins is a Conservative MP and member of the committee that heard evidence from the Murdochs on July 19. Yesterday, Bloomberg News reported Collins saying that a "contempt of Parliament" finding against Murdoch would threaten his role as Chairman of the highly profitable BSkyB UK entertainment network. Collins said such a finding, "would raise the question about whether someone can pass the fit-and- proper person tests required to hold a broadcasting license if they have been found to be in contempt of Parliament."
If and when James Murdoch is found in contempt of Parliament, there is a stark choice for Rupert Murdoch and his family enterprise – leave James in place and lose BSkyB, hardly acceptable, or remove James from the position of chairman of the board. The latter choice would be the second demotion for James in just a few weeks. Rupert Murdoch announced that his chief operating officer, Chase Carey, would become chairman of News Corporation should Murdoch become "suddenly incapacitated." James Murdoch had been groomed for that role and was the likely heir up to this point. James may lose his position as head of the most lucrative media network in Europe. as well.
The ultimate nightmare scenario is a public outcry demanding that News Corporation sell off its 39% interest in BSkyB or a move by Parliament or the coalition government to force a sell-off.
This would bring to life the recent SEC filing by News Corporation. If it lost BSkyB entirely, that would take $3.8 billion away from the company top line. The investigations and findings could have a devastating impact on the ability to conduct business, particularly if News Corporation loses BSkyB entirely. This would "affect the Company's results of operations and financial condition" by reducing gross revenues from $32.7 billion to $29 billion almost overnight. That's a start.
END
This article may be reproduced with attribution of authorship and a link to this article.