Farewell, Mikael the Mime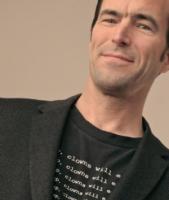 Mikael Rudolph, a mime, actor, dancer, teacher and political activist, passed away Fri., Feb. 26, at his home in Minneapolis. He was 51.
I first met Mikael several years ago through his social activism (he co-founded Impeach for Peace) and only later did I come to know him for his creative talents. He won his first battle with cancer and made it the subject of his soulful, funny one-man play, "Cancer My Ass!" which debuted -- or "de-butted" as Mikael called it -- in Minneapolis one year ago.
Related: Mime uses humor to put cancer in its place
For Mikael, "All the world's a stage" was more than a line from Shakespeare. It was his approach to life. "That's who I am,"
he told me last year, then looking as fit as a fiddle. "I always process my own issues and problems through friends. I don't isolate."
The second time cancer reared its ugly head six months ago, this time in the form of therapy-related acute myelogenous leukemia, he fought it with the support of loving friends and both traditional and alternative healers. When I visited him in the hospital I sensed him searching our faces as if looking in a mirror to see how he was doing. Mikael lived not to simply act, but to interact.
His friend Angela, who lived Mikael's ups and downs these past months, said he was not afraid to die and "knew it was his time...He wanted to go and we all know when Mikael decides, that's what is going to happen."
Thank you, Mikael, for your unwavering compassion for the people of Iraq and those in need in this country and everywhere. http://www.mikaelthemime.com/