PBS to air 'Healing Words: Poetry & Medicine' this summer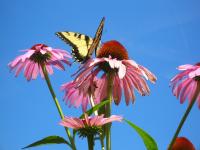 A growing body of medical studies, including one recently published in The Oncologist journal, demonstrate that writing helps patients change their thoughts about their illness and can help improve their quality of life.
The documentary Healing Words: Poetry & Medicine shows the power of poem-making in action while Dr. John Graham-Pole, a pediatric oncologist and professor of pediatrics at the University of Florida in Gainesville, and poetry therapist John Fox worked as a team helping patients write poems at Shands Hospital in Gainesville.
Fox is the author of Finding What You Didn't Lose: Expressing Your Truth and Creativity Through Poem-Making and Poetic Medicine: The Healing Art of Poem-Making. He founded the Institute for Poetic Medicine.
The producer is David Watts, MD
, a clinical professor of medicine at the University of California-San Francisco, a TV host and producer, and a published poet.
The documentary will be fed by satellite to PBS stations across the country for broadcast on July 1. To see if your local PBS affiliate is airing the program visit PBS.org. You can request that your local station broadcast the documentary on July 1 or tape it for presentation later.
A film trailer is on the Poetic Medicine website.