Divine Will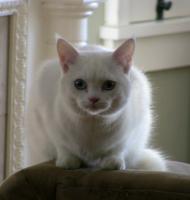 Author sees parallels in animal and human cat and mouse games
Our snow white cat, Will, drops his leather mouse at my feet, begging me to throw it so he can do the chase, and return the mouse to me.
Could this be an analogy for my relationship to the Divine?
Will soars over the couch, flying only in pursuit. Does God enjoy the toss and return as much as I do?
Do I go seek, and after I claim what God has spun off, proudly carry it back to God, and beg to let me seek it again? The co-creation of the experience is a joy that I sometimes misinterpret as a challenge.
Now Will slides his mouse underneath the love seat. He creates the challenge of fishing it out with one claw, but he often pushes it too far out of reach, and comes to me, complaining and wanting me to solve this self-induced problem.
Does my ego hide my treasures under similar seemingly insurmountable obstacles? Unlike Will, I've come to understand that the man in the chair, the love seat, the mouse and the cat are all made up of the same Divine energy. This energy may change form, but is always part of the whole.
I discovered that I was a healer under my own personal "love seat," and others helped me get it out from deep underneath the couch. But I'd shove it away from time to time, considering it something to play with, rather than something to integrate it into who I am. After 20 years as a successful banker, I was as surprised as anyone to find that "healer" was my mouse -- my path and my connection to the Divine.
As a healer, I must feel and know my connection to all things. I feel that I am part of the Earth, and it's a part of me; that I'm connected to others and the universe. "Healer" is a misnomer term for this role. "Healing midwife" is closer, reflecting the divine feminine present in the art of healing, helping to birth the healing process inside all of us. Or is it closer to "animal husbandry?" As a man do I bring healing husbandry, lending guidance and support to the healing process?
I also teach grounding, the practice of connecting one's energy to the Earth's energy. I struggled to find a term to describe this, finally turning one day in exasperation to my teenage daughter, who said simply, "Why Dad, you're an earth mentor." That's a better term than I could have come up with. This connecting to something larger than ourselves is key to knowing that we don't have to be in control all the time, and we are supported. The simple process of consciously connecting and trusting
I cannot heal without my heart open and full of this energy; nor can you. The goal is to help open any blockages to this natural flow of energy in the body, and support the opening of the heart. One of the benefits is that the surrender and trust that comes from connecting with the Earth allows the heart to open. This is essential.
When we lose sight of the truth underlying this game of go seek, we need to remember the essence of who we are and our connections to all things. It is a glorious connection available to all things.
As if on cue, Will, paying attention to his own inner rhythms, curls up on my lap and begins to purr.
David Nelson, EarthMentor, is a Reiki and Qigong practitioner and wellness coach based in Minneapolis, MN. A former banker, he has experienced the longest journey - the journey from the head to the heart - and feels blessed to now be able to support and empower others in their own personal journeys. For more information visit
www.icoachlife.com
.