Global wind power sees large increases in investment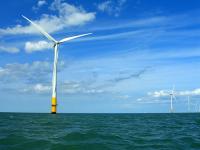 A new report says the global wind power market generated $63 billion in 2009 and employed over half a million people.
China and the United States are currently heading a worldwide upsurge in the installation of wind power capacity to the surprise of some analysts. The global wind power market generated $63 billion in 2009 and employed over half a million people, according to figures issued by the Global Wind Energy Council (GWEC). The report indicates that the sector is set to repeat its 2009 performance.
Steve Sawyer, the GWEC's secretary general, offers an upbeat prediction. "The continued rapid growth of wind power despite the financial crisis and economic downturn is testament to the inherent attractiveness of the technology, which is clean, reliable and quick to install. Wind power has become the power technology of choice for a growing number of countries around the world," he said.
China led the pack last year in terms of installations by country, with 13 gigawatts (GW) of wind energy being put on line, thus almost doubling its capacity to 25.1 GW. This puts China in second place in the overall capacity stakes – just in front of Germany – but the United States remains top of the table with 22 percent of all wind power in the world being installed there and an increase in capacity of 40 percent in 2009. The total of installations by all countries represents a substantial 31 percent increase over the year, and world total capacity is now estimated to be just under 158 GW.
These are surprising figures in the triple-context of the world financial crisis, the fact that it is relatively investment-greedy per megawatt, and the meager results of the Copenhagen conference which hardly inspired investment confidence in the immediate future of alternative energy sources.
The figures are explained by national (as opposed to international) energy policies according to Sawyer, who said: "...wind energy continued to grow due to national energy policy in our main markets and also because many governments in prioritised renewable energy development in their economic recovery plans."
Asia, with recent investment in India, Japan, South Korea and Taiwan, is the largest regional investor, followed by North America and Europe.
Europe installed 10.5 GW of wind power capacity in 2009, with Spain's total of 2.5 GW leading the way. France had a relatively bad 2009 due to an upsurge in court cases brought by opponents of wind power who claim that it results in aesthetic damage to the environment. This phenomenon has led to uncertainly concerning wind power's future development there and the government is considering aesthetic damage legislation which wind power proponents say will act as a brake on wind power investment.
But the best performance was to be found in the USA, despite dire predictions by analysts in early 2009 who expected investments to fall by up to 50 percent. However, the U.S. Recovery Act, which encourages wind energy development, actually led to an increase of 39 percent of the country's capacity to a grid-linked total of 35GW.
Sawyer is highly optimistic for the future. "Wind energy is already making a significant contribution to saving CO2 emissions," he concludes. "The 158 GW of global wind capacity in place at the end of 2009 will produce 340 TWh (terawatt-hour) of clean electricity and save 204 million tons of CO2 every year. As we see in Europe and the US, wind power is now often the most attractive option for new power generation, both in economic and environmental terms, and for improved supply security."