What happens when they start killing Christians?
The NATO-Saudi sponsored Free Syrian Army is attacking Christians in a systematic way. What were the president and Congress thinking about when they authorized aid to the rebels knowing this would happen?
Michael Collins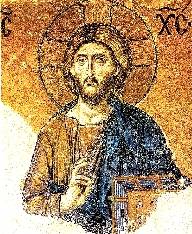 What really scandalizes us is that the Western world is encouraging this rise of sectarian violence just to topple the [al-Assad] regime. Mother Agnes Miriam, Syria
NATO and Saudi supported Free Syrian Army democracy warriors are attacking and killing Christians in Syria. Reports indicate that various Christian denominations are special targets for kidnapping, violence and intimidation. (Image) For example:
"Syrian rebel forces have trapped over 12,000 Greek Catholics in a village near the Lebanese border, causing shortages of food, medicine and other urgent supplies." CNA, August 25
The Greek Catholics in the village of Reblah may suffer the same fate as Christians in Qusair who were forced to seek refuge in Lebanon recently after their village lost supplies for days thanks to the Free Syrian Army (FSA). The residents were told to leave or face annihilation. They chose to leave.
Mother Agnes Miriam of the Melkite Catholic monastery near Homs provided important first hand reporting on the fate of Syria's 10% Christian population (July at 3:30 and August 2012). She noted that FSA fighters destroyed six Christian churches in the city of Homs. Due to this and other attacks, up to 90% of the Christian population were forced to flee for their lives without their possessions.

Regarding the FSA, Mother Agnes asked, "Why choose Christian zones as a target?"
United States and NATO Support for those Attacking Christians
On December 11, 2011, Pepe Escobar reported that 600 troops and weapons were shipped from Libya to help topple the Syrian government. This was just part of the NATO-Saudi-Qatari sponsored flow of foreign fighters into Syria. This was well before Hillary Clinton's February warning that arming FSA rebels would risk arming terrorist elements among the rebels.
Regrettably, Clinton's statement was dripping with the cynicism of realpolitic. She and the president knew that the core commanders of the NATO supported Libyan rebels sent to Syria consisted of the Libyan Islamic Fighting Group (LIGF). LIGF was a declared ally of al Qaeda well before the Arab Spring movement started in 2011 (Al Qa'ida's Foreign Fighters in Iraq, U.S. Military Academy). She also knew that Saudis and Qatar were sponsoring Wahhabi fighters, the most extreme of the anti-Christian Muslim religious zealots.
Libyans and other foreign Islamic extremists flocking to Syria are welcomed at a special NATO-Saudi-Qatari "nerve center" in Adana, Turkey (near Aleppo, Syria). Just a few miles from embattled Aleppo, Syria, the center directs "vital military and communications aid to Syria's rebels" as they kill and maim to advance their cause.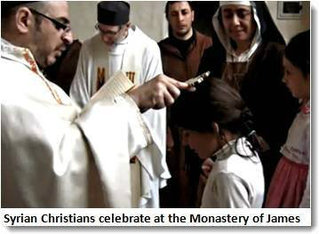 Ironically, FSA tactics mirror those used to condemn Saddam Hussein: the use of human shields in military operations. The rebels moved into Syria's three largest cities, attacked local authorities (with very limited support from residents), and incurred the inevitable military response of the ruling government. The rebels can't win a battle in the open field. By using the urban population as a shield, the FSA avoids the risks of an open battle with the regime. (Image: Monastery of St. James)
Blessed are the peacemakers?
Political leaders in the United States embrace Christianity as an article of political faith. Few prominent leaders are without a specific religion and an endorsement by their local pastor, priest, etc. They display their faith in public and talk about how it rules their life. Yet:
George Bush, the self-proclaimed Christian president, showed little regard for the fate of Iraqi Christians after the illegal invasion and occupation;
Barak Obama failed to take into account the suffering of Syrian Christians when he sent Hillary Clinton all over the world to gain assistance for the Syrian rebels; and
Under both presidents, Congress failed to do anything more than hold a brief hearing or two where the issue was raised.
Being a Christian in the Middle East carries special challenges. You are an identified minority. You are subject to special laws that limit your rights. Worse, during times of conflict or even times of peace, your community may be subject to intense discrimination and violence. It is not a comfortable path. It is a commitment based on deep faith and loyalty to the teachings of Jesus.
Politicians claim to follow Jesus but rarely walk the path. They must be called to account. Either act on your faith or stop lying. Stop using your religion to get elected and forget everything about it once in office. These politicians should read Jesus' teachings on peace, expand the principles to all people, and shun intimidation and violence as the first tool of foreign policy.
END
This article may be reproduced with attribution of authorship and a link to this article.