Neuro Scans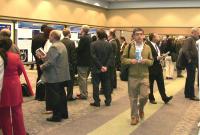 This Neuro scan focuses on some highlights from the American Academy of Neurology annual meeting in Seattle April 25-May 2 as well as how to buy a brain.
Women, pregnancy and epilepsy
About 500,000 U.S. women of childbearing age have epilepsy and many of them take medications to control seizures. An analysis of several studies found that one of the more effective drugs at preventing seizures, valproate, increases the risk of birth defects, including lower cognitive scores, in children exposed to the drugs in vitro or through breastfeeding, and should therefore be avoided by women with epilepsy during pregnancy.
New practice guidelines introduced at the meeting also recommended women with epilepsy planning to become pregnant should avoid taking more than one epilepsy drug at a time, work with their doctor to wean themselves off a drug to avoid increased seizures, increase their folic acid intake, and avoid smoking.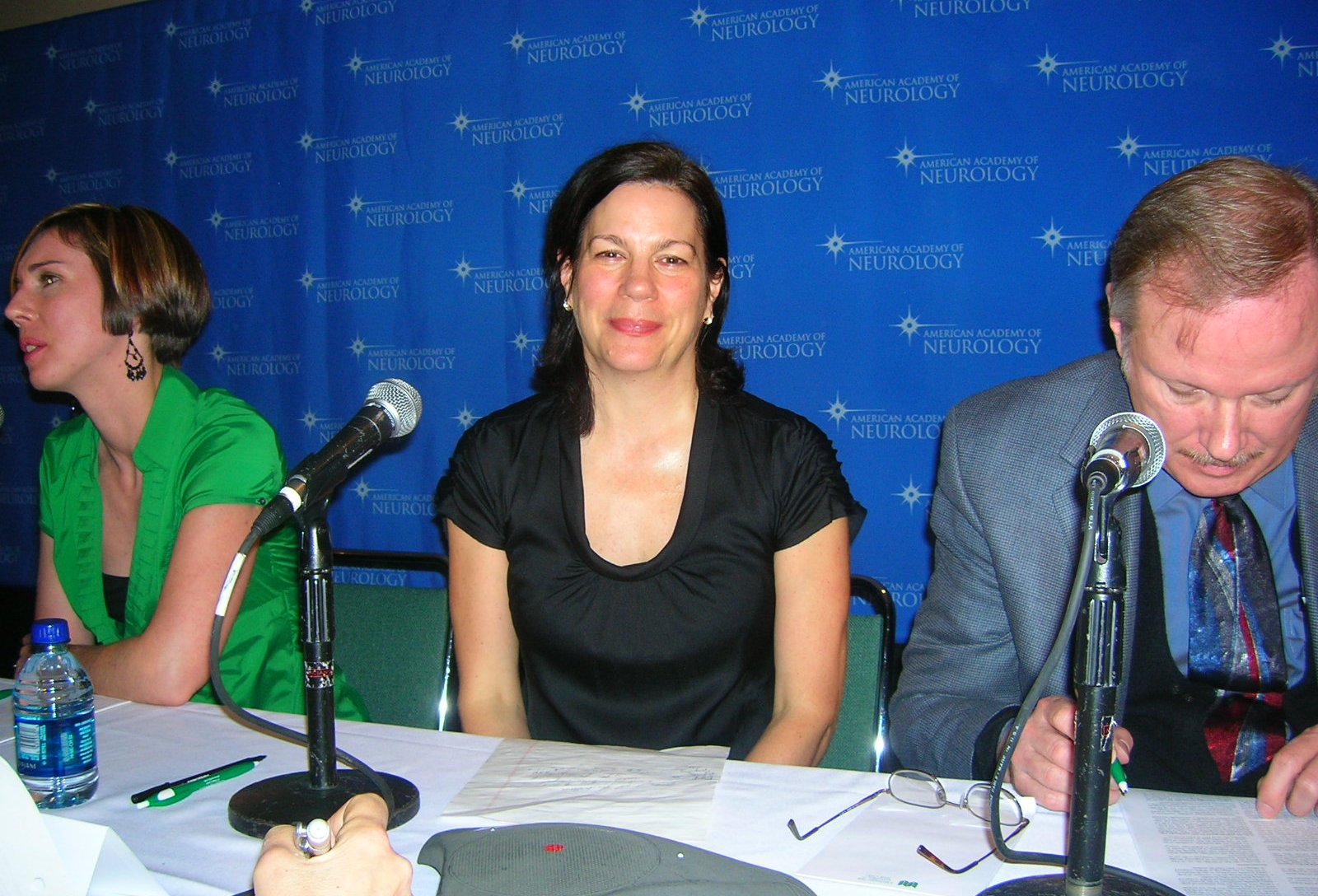 Pictured L to R: Mary Katherine Albritton, Cynthia Harden, MD, and Gary Gronseth, MD, at an April 27 press briefing at the Washington State Convention Center. Harden and Gronseth co-sponsored new practice guidelines pertaining to pregnancy and women with epilepsy. Albritton, parent of two young children, gave the patient's perspective. Photos: Kathlyn Stone
Multiple Sclerosis, mitoxandrone and leukemia risks
Researchers in Italy found that patients with multiple sclerosis who are treated with a cumulative dose of 82 mg/m2 of mitoxandrone (Novantrone) are at a 2.7 higher risk of developing acute leukemia, according to a report presented at the meeting.
The risk seems to increase with higher cumulative doses, and after observing that 21 out of 2,854 MS patients (7.4 patients per 1,000) developed leukemia after treatment with mitoxandrone, the researchers recommend careful monitoring of any patient treated with the drug for six years after the last treatment.
"It is vital that all MS patients treated with mitoxantrone undergo prolonged and careful haematological follow-up to check for acute leukemia," said lead author Vittorio Martinelli, MD, University Vita-Salute, Milan, Italy.
Mitoxantrone was approved by the FDA in 2000 as a therapy to reduce relapses in patients with progressive multiple sclerosis.
Therapy for relapsing-remitting MS looks promising in trials
Cladribine, a drug being developed to reduce the frequency of relapses in patients with relapsing-remitting multiple sclerosis, showed a more than 30 percent reduction in the risk of disability progression compared with placebo in 1,326 patients followed over the two-year study period, according to a study presented at the AAN meeting. The drug also demonstrated a reduction of at least 70 percent in the mean number of active brain lesions as measured by magnetic resonance imaging (MRI).
"The remarkable thing about this drug is you only have to take it 10 days a year," said lead investigator Gavin Giovannoni, PhD, Institute of Cell and Molecular Science, Barts, United Kingdom, and The London School of Medicine and Dentistry in London.


The trial has been extended for two more years to gather more data on safety and efficacy over a longer term of use. Experts will be particularly interested in observing whether any association exists between cladribine and cancer risk.
Want to know more about the research launched at the AAN meeting?
Ed Susman, medical writer and publisher of Medical Front Page, and Andrew Wilner, MD, neurologist, author and Medscape blogger (requires registration), were two of the dozens of correspondents reporting, blogging and twittering live from the meeting. My reports are at Doctor's Guide and Consultant Live: Consultations in Primary Care.
Brains for Sale
If you're a "Grey's Anatomy" fan you already know that Dr. Meredith Grey and Dr. Derek Shepherd are tying the knot during the May 7 episode.
The couple's online wedding registry lists the AAN Foundation as one of their favorite charities and they're encouraging fans to make donations to the AAN Foundation in lieu of gifts. The foundation sold virtual brains for $5 at the annual meeting which can also be purchased online at the foundation's Brain Matters web site.
Donations to the "Buy A Brain" campaign go toward funding research for treatments and cures for Parkinson's disease, Alzheimer's disease, multiple sclerosis, brain tumors, traumatic brain injury and other neurological disease.