Injured photographer uses YouTube to request evacuation from Syria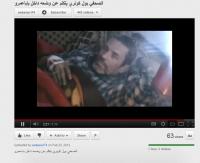 Paul Conway, a photographer for the Sunday Times who was injured in a rocket attack in the Baba Amr district of Homs, Syria, on Feb. 21, appears in a YouTube video on Feb. 23. The rockets killed his colleagues journalist Marie Colvin, photographer Remi Ochlik, and 24 Syrian civilians.
In the video, Conway says he is being cared for by Free Syrian Army medical staff. A medical team member points to the three wounds Conway received in his leg and asks for assistance evacuating Conway so he can receive proper medical assistance and escape future attacks. Edith Bouvier, a reporter for Le Figaro, also appeared in a video pleading for emergency evacuation due to injuries received during the rocket attack.
Marie Colvin's final article in the Sunday Times, 'We live in fear of a massacre,' published February 19, is accompanied by Conway's photography.