Four more cases of mesothelioma found as part of Iron Range Taconite Workers Health Study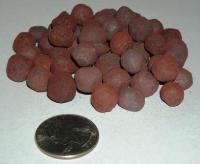 Sixty-three former taconite mine workers in Minnesota diagnosed with job-related mesothelioma, including the recently identified cases.
Four more cases of mesothelioma among former taconite mine workers in Minnesota have been announced by the Minnesota Department of Health, bringing the total to 63. The new cases emerged as part of a statewide cancer surveillance study and the more targeted Taconite Workers Health Study.
The University of Minnesota launched the study of taconite miners in 2008 – several years after Minnesota health officials observed excessively high rates of mesothelioma among taconite mine workers. Taconite is a mineral relative of amosite asbestos. About 69,000 people worked in the state's iron mining industry between the 1930s and 1982.
The health department first documented the high occurrence of mesothelioma in Minnesota mine workers in 2003 beginning with 17 miners. The university began a random sampling of 1,200 former mine workers in summer 2009.
Mesothelioma is a rare, fatal form of cancer associated most often with asbestos exposure. Health officials say it can take up to 50 years to develop mesothelioma following exposure to asbestos.
Along with investigating the high rate of mesothelioma among taconite workers, the Taconite Workers Health Study is also investigating the possible relationship between exposure to silica and asbestos with the development of lung, colon, pharyngeal, esophageal, laryngeal, and stomach cancers and non-cancerous respiratory illness.
The university is surveying the lung health of 800 spouses of miners as part of the study because they may have been exposed to dust brought home on workers' clothing. The research could expand even further – to environmental assessments of entire Iron Range communities in Northeast Minnesota. Airborne particulates in communities surrounding taconite operations are being sampled and measured and compared with those of other Northeast Minnesota towns. If preliminary results suggest a link between exposure to dust from taconite operations and disease, the community assessments will expand to more communities.
John R. Finnegan, Jr., dean of the University of Minnesota School of Public Health, said the current focus of the study is on collecting and analyzing data, "but over the next couple of years, we look forward to sharing our results with the community as soon as they are available."
"It is important that we find answers to the many long-standing questions about the relationship between taconite mining and respiratory health," said Sanne Magnan, MD, Minnesota commissioner of health.
About 2,000 cases of mesothelioma are diagnosed in the United States each year, according to the National Cancer Institute. The disease is closely linked to miners and others exposed to asbestos.