Fashion makes a math statement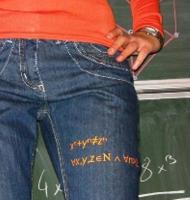 Austrian fashion designer Peren Linn says girls have both the genes and the jeans for mathematics.
Austrian fashion designer Peren Linn wants girls to draw their own conclusions about math and she's giving them an unlikely tool to help them do just that.
Linn created her line of girls' imprinted jeans - "The Math Jeans" – out of a desire "to bring math and forms into daily life," she explained. "It didn't take too much time, because jeans are part of our daily life. So I worked on and brought out the imprinted girls' jeans."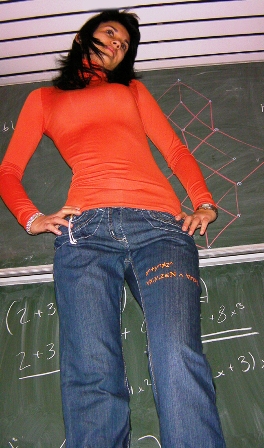 Linn was taken aback by a comment made by former Harvard University President Lawrence Summers that girls lack the genetic means to do well in math and science.
That remark reinforced prevailing assumptions about girls' math abilities and caused a stir in academic circles.
But it also gave Linn the impulse to encourage girls "to start thinking twice and take this new challenge to reach the top of math. Maybe they're right, it's not a female world, but let's see proof after a few years, if the theorem is still the same."
Linn didn't study math, but said she started looking at it differently after watching the acclaimed 1996 BBC documentary about British mathematician Andrew Wiles of Princeton University who solved Fermat's Last Theorem.
On his web site, Simon Singh, who co-produced the documentary while a director with the BBC TV Science Unit, sums it up this way: "The documentary was about mathematics and mathematicians, but it was also about childhood dreams, ambition, obsession, passion, failure and triumph."
The documentary "made me cry," Linn said. "This was the first time I realized how deep feelings ran in math. I was shocked. It was amazing."
Further inspiration came from Austrian mathematical biologist Franziska Michor and books such as "Math Doesn't Suck" and "Kiss My Math" by actor and math education advocate Danica McKeller.
Linn thought more people should see this other side of math, especially girls, so she used her creative skills to bring two seemingly disparate subjects together.
"I am an artist and have a special eye for things, materials, and situations, and how to connect them all into one," says Linn.
Watch for more math fashion from the Austria-born artist who recently relocated to Hawaii. "I will continue to support all these girls on the way up with more stylish stuff."