Japan awaits word on possible nuclear reactor leak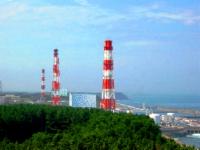 After issuing an atomic state of emergency, Prime Minister Naoto Kan told people to "remain calm," stay informed and await instructions.
Japanese Prime Minister Naoto Kan has issued an emergency decree regarding the possibility of leaking radiation from the damaged Tokyo Electric Power Company's (TEPCo) multi-reactor Fukushima Daiichi nuclear power station. The 3,000 residents near the Fukushima No. 1 plant were told to evacuate, according to the Kyoto News Service.
TEPCo officials said rising pressure inside one of its reactors had elevated the risk of a radiation leak. The U.S. Air Force in Japan flew coolant to a nuclear power plant that suffered severe damage from the quake, according to Secretary of State Hillary Rodham Clinton, but it wasn't immediately clear if it was the Fukushima plant. Nuclear fuel must be continuously cooled for 24 to 48 hours even after being shut down, according to the International Atomic Energy Agency (IAEA).
Kan told citizens there were no confirmed reports of leaked nuclear radiation. "I ask the public to continue to stay fully vigilant and to keep abreast of TV and radio reports, and I ask everyone to act calmly," Kan said in a released statement.
''We have a situation where one of the reactors cannot be cooled down," said Yukio Edano, a government spokesman, at a late Friday press briefing. ''No radiation has leaked outside the reactor. The incident poses no danger to the environment at the moment.''
Eleven of Japan's 50 nuclear reactors shut down automatically following the quake.
The Tohoku district was the epicenter for the 8.8 earthquake and tsunami that struck Japan beginning at at 2:46 pm. One of three Onagawa nuclear power plants near Sengai, less thn 50 miles from the epicenter, broke out in a fire, but was later extinguished.
Kyodo News said at least 200 bodies had been found near the epicenter and that 88,000 people are reported as missing. The massive tsunami that followed the quake washed away numerous homes, autos and planes and submerged entire towns.