Grain importers pestered by beetle larvae arriving in rice shipments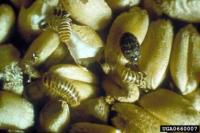 Port of Los Angeles, Calif. -- For the fourth time since November 2010 U. S. Customs and Border Protection Agency (CBP) agriculture specialists have seized and destroyed rice shipments from India, Pakistan or Saudi Arabia containing beetle larvae.
The latest seizure occurred at the Los Angeles/Long Beach port of entry on Jan. 13 where officials stopped a shipment of basmati rice from Pakistan.
"The specimen was a pest not established in the United States," said Jaime Ruiz, a CBP spokesman. U.S. Department of Agriculture entomologists identified the insects as Trogoderma granarium Evert, also known as the khapra beetle. The USDA said the pests are an invasive species not established in the United States and are considered to be one of the world's most destructive insects, particularly for grains and seeds.
According to Ruiz, a Saudi Arabian rice shipment that arrived Dec. 29 at Los Angeles International Airport contained live adult and larvae khapra beetles.