Call for global ban on asbestos intensifies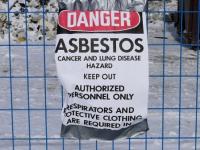 There should be a total ban on asbestos across the globe in favor of safer synthetic alternatives, according to scientists at the Collegium Ramazzini, an international society focused on occupational and environmental medicine, based in Modena, Italy. The reserachers urged for the ban in the International Journal of Environment and Health.

While 52 nations have banned asbestos, some, including Canada, continue to mine and export the mineral. Canada came under intense criticsim today by the Lancet for its plan to re-open the Jeffrey Mine in Asbestos, Quebec, that would produce asbestos for export to Asia.
An Asian delegation of asbestos victims, trade unionists and health organizations have joined with the Ban Asbestos Canada group to protest asbestos exports.
"We call on the Canadian government to end all exports of asbestos to south Asia, Mexico, and the global south, according to a Ban Asbestos Canada statement. "We condemn efforts to expand and reopen the Jeffrey mine in Quebec. Tonnes of exported Quebec asbestos will kill tens of thousands of workers around the world."

Asbestos includes any of six naturally occurring fibrous minerals. Serpentine asbestos, also known as chrysotile or white asbestos, is by far the most commonly used in buildings. Amphibole asbestos minerals including amosite (brown asbestos), crocidolite (blue asbestos), and tremolite, anthophyllite, and actinolite, are no longer used.
Asbestos is used in building contruction for its ability to withstand fire, heat and acid, and insulate against heat and sound.
Sources:
Asbestos is still with us: repeat call for a universal ban. International Journal of Environment and Health, 2010, 4, 380-388
Canada accused of hypocrisy over asbestos exports. The Lancet, Early Online Publication, 9 December 2010. doi:10.1016/S0140-6736(10)62242-8