Skiing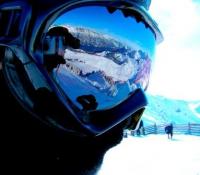 You don't know that the last time you skied will be the last time you ski.
Had I known I'd never ski again, would I have done different things? Yes. I would have skied more, taken no breaks at all, taken more risks, and skied more at night. I would have tried that enticing jump.
We were at Keystone, a resort I knew so well I no longer carried a trail map. Gerhardt and I were still happily married and ready to play in the snow. The temperature was around freezing with sunshine bouncing off eight inches of fresh powder from the night before. Gerhardt and I picked our way over to the Outback, Keystone's most remote, most rigorous mountain. I zipped down the backside of Keystone Mountain on the Mozart run like a pro. At the bottom, I took a moment to look back up the steep slope. Even the year before, Mozart caused me to pause. Since then I'd learned, do not stop. Keep the ski tips pointed downward and move. The slick snow took care of the rest. Stopping used a huge amount of energy; whereas, slicing through the powder created a rhythm that started beneath the skis, vibrated into the feet, scurried up the legs, rotated the knees, pushed through the thighs, and settled somewhere 20 inches above the head. I was a marionette and the mountain was the puppeteer. Once I established the beat, I danced in the snow. I walked on this shaved water. My skis floated through the weightless fluff and took me exactly where I told them.
I'd married a Swiss; therefore, I had to ski. More than a decade had passed since I first strapped planks on my feet. Never very athletic, I was proud of my achievement. We skied at least four weeks each winter. I attended ski school with gusto and took many private lessons with big male instructors who only picked me up when they were certain I could not get up alone. I had to become passably good. I had to get fast because I was tired of being left behind when we skied with friends. I became fearless, so I progressed from hating cold weather to training for ski season beginning each autumn. I owned the latest curvy shaped skis with robotic-looking bindings for my heated boots.
Besides having the latest and best equipment, I also took the sport as a fashion statement. My colorful wardrobe was made of the best windproof, water-resistant technical fabrics, and often had fur-trim.
At the lift line, Gerhardt waited for me. "You're getting good schnuggily. I watched you. You remember how you struggled last year? Well, not anymore."
He kept his arm around my shoulders on the cold lift ride to the top of the North Peak. Off the lift at the top, I flipped down my goggles and kept moving. To my left was my beloved Starfire trail. We had time for a couple of runs before heading to the Outback Summit House for lunch where we would meet friends and our kids.
The spindrift blew sharp crystals cutting my bare cheeks. I snapped the front of my parka, throwing its hood over my head knowing I'd fling it off halfway down the run. Starfire offered a few scattered clusters of trees at its beginning only to give way to a freeway of snow.
Beginners didn't ski the Outback. Although the North Peak doesn't have the hardest runs, it takes some time and effort to reach and no small amount of gumption to turn left off the ski lift into the sheer space of Starfire, an intermediate run marked with blue signage. For a moment, my ski tips were suspended while my body caught up to my equipment. I leaned forward into the void and had an Icarus moment. I was certain I could fly. I had many Icarus moments when I skied. They are one of the reasons I stuck with the sport. The twin supernatural feelings of walking on water and flying were orgiastic causing my brain to slosh with endorphins.
After a little play around a few struggling trees, I flattened my skis, pointed them straight, held out my arms, and yelled. The sound was carried back to Gerhardt by the wind. He skied up to me, gave me a devilish grin, made a couple of turns then, pouf, he was gone. I wouldn't see him again until I reached the lift. On the steepest part of Starfire, I held my breath and with effort kept my skis flat. Instinct told me to turn to break my speed. Experience wanted the Icarus feeling. I got it many times, and I had the entire afternoon with Elk Run in the Outback ahead of me.
I awoke to another surgery the next day.
Later, my sister tried to convince me to use handicapped skiing equipment and services. I desisted. I did not want to be dragged down a slope. I preferred my memories of fully functioning legs.
Diane Hoover Bechtler lives in Charlotte, North Carolina, with her husband, Michael Gross who is a poet with a day job, and with their cat, Call Me IshMeow. As well as writing short work, she is looking for an agent for her memoir, which is about learning to live with brain disease. She has an undergraduate degree in English from Queens University where she graduated summa cum laude and subsequently earned her MFA.
She has had short work published in journals such as The Gettysburg Review, Thema, Literary Journal, Pangolin Press, Bewildering Stories, Everyday Fiction and The Dead Mule, School of Southern Literature.