The Cane Mutiny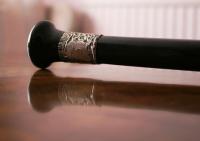 Diane Bechtler shares how she came to grips with her cane during a cross-country trip to the Mayo Clinic.
I was reluctant to use my cane even after I bought it. I figured I might need one eventually so I chose a plain black adjustable model from a seniors' site on the Internet. For two months, it gathered dust in a corner. Then I named it Citizen Cane and gave it a coming out party before leaving for my Mayo trip. The nature of my spam changed after that Internet order. My number of Viagra ads doubled, and notices for disability insurance popped into my junk mail.
Email from a fellow graduate student: I noticed your struggle with walking on campus last January. Use the cane and look great doing it. If anyone can make a cane stylish, it is you. If anyone can make a limp attractive, you can.
I had a heart-to-heart talk with the cane before I left. "I'm taking you on this trip with me and I'm counting on you. The men in my life have let me down. You're the last one standing." Citizen rested against the wall.
I continued, "I see you are the strong silent type. That's probably good. I don't want a lot of chatter right now. But I need someone to lean on and you are chosen."
I stared at the black pole in tears. "Don't let me down. I feel pretty good about you. You're stable; you have a job and a purpose. We should make a good team."
I began using Citizen around the house. I was surprised at the added stability a third leg gave me. In geometry, I had learned three points make a plane. So, I told Citizen: "You have helped me create a plane. A plane is similar to a platform. A platform is a base. I have a base to build on so let's get going." I fell in love with Citizen knowing he'd always be there for me.
I gave people with canes room to move. That's what I needed – room to move. Citizen Cane would signal the crowd to part and allow me space. The cane would be useful in more ways than just walking. How right I was. Citizen worked as a weapon. He reached to press the buttons that opened doors automatically. I wedged Citizen in closing elevators. I propped hotel doors open with him. I could join a parade and twirl Citizen like a baton if I liked.
I banged Citizen against the side of an overdue electric cart as if whipping a horse for speed. That incident took place at the Minneapolis-St. Paul airport. I was being taken by cart to the next plane. I spoke to the driver, "You were not there to pick me up. I arranged transportation to the correct gate when I made my reservation. You being late does not mean I have to be late. Step on it. Mister, I'm on my way to Mayo Clinic. This is not how you treat a sick woman." Flakes of black paint chipped from Citizen's side while I knocked him against the cart. "I have little to lose if I decide to throttle you and I'm thinking about it." Bang, bang with the cane. With Citizen's help we made it to the plane with two -- maybe three -- minutes to spare.
In learning to use my cane, I had its height adjusted and practiced letting it stabilize me without putting a lot of weight on it. Using a cane correctly doesn't come naturally. It is held in the hand opposite the weak side. For me that meant holding it in my right-hand. I practiced moving smoother. Cane forward; bad leg forward; good leg follows.
The black pole increased my developing old-lady look. I thought some Queen Elizabeth-style ungainly purses with handles and a moth-chewed mink stole would complete my attire. I made note to search out these items.
At the Kahler Grand Hotel near Mayo, wearing nun's oxfords, I surfed the Internet studying men on DateMate.com.
A short burly guy watched over my shoulder, and asked me what I was doing. I told him. He was single and had never considered Internet dating. I shared how it worked. We chatted for a few minutes in a casual friendly way. He wore his hair cropped close and was clean-shaven. His clothes were those of a laborer: dirty flannel shirt and jeans dotted with paint spatters. I saw that it was nearly midnight so I began gathering my stuff to go to my room. The man helped. I had learned to accept a hand whenever it appeared. After we got on the elevator, he said, "Gee, you sure are pretty. I'd really like to sleep with you. Would you like to come to my room and talk (only he didn't say "talk." He used another 4-letter word)?" The elevator stopped. I shouted, "No, I would not." I shook Citizen at him. "You go to your room and I'm going to mine." I pointed the way out of the elevator with the cane. I reported the incident when I got to my room. I might be the wounded antelope, but he was not a lion.
Email response from a male writer friend upon hearing about the elevator incident: D, You should have held out for a sword cane. Seems guys work a lot less on pick-up lines these days. In my single days (pre-1984 when dinosaurs roamed) you would never have asked a girl to go to your room and f*** on less than 20 minutes acquaintance. We were civilized. -- Best, Chad
At my CAT scan the next morning, I told the nurses what happened. The older woman chimed in, "Well, honey, that boy was not from Minnesota. Mothers raise their sons better here. A Midwesterner would have stared at your pretty little feet (I wore black Mary Janes), glanced up for one second, and been too intimidated to even say hello. I bet that guy was from New York." She said the last part as though it were a crime. I didn't tell her my boyfriend was from there.
My journey to Mayo was very demanding. I had exceptionally painful tests such as the spinal tap -- so many tests they were lined up like a cruise itinerary on the river Styx. Ah, that was it. Mayo: the cruise. "Straight ahead is Diane's sub-cortical white matter. See these splotches. They are treacherous. Stay away from them. Don't go in there without a cane."
Not a fallen woman yet: I wrote on my computer what eventually became a post for my fellow students. I'm staying upright. Few curbs here. Got my cane retrofitted with a strap and a hook to hang it from counters. The Mayo is a wonder. It is huge. Doesn't take a village. Takes an entire city. I'm gaining weight despite miles of cane lurching. I'll have to invent cane aerobics.
Diane Hoover Bechtler lives in Charlotte, North Carolina, with her husband, Michael Gross who is a poet with a day job and with their cat, Call Me IshMeow. As well as writing short work, she is looking for an agent for her memoir, which is about learning to live with brain disease. She has an undergraduate degree in English from Queens University where she graduated summa cum laude and subsequently earned her MFA. She has had short work published in journals such as The Gettysburg Review, Thema, Literary Journal, Pangolin Press, Bewildering Stories, Everyday Fiction and The Dead Mule, School of Southern Literature.