Netanyahu's pretext for war - Islamic Jihad missiles
The recent missile attacks on Israel coming from Gaza are Israeli PM Netanyahu's pretext for an attack on Iran. The less likely the United States is to back an attack, the hotter the rhetoric. Former Mossad chief Meir Dagan threw cold water on the war plot when he announced just how crazy such an attack would be. Will rational thinking prevail?
By Michael Collins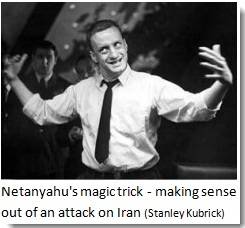 Israeli PM Benjamin Netanyahu has his pretext for an attack on Iran. He left Washington disappointed by President Obama's reluctance to saddle up for Armageddon. Now he's got the formula.
Haaretz (daily news), one of Israel's few liberal media voices, linked Gaza based missile attacks on Israel to the presence of Iranian military experts. This fits nicely into the Netanyahu strategy. Here's how Haaretz reported events:
"Iran pressured Islamic Jihad and popular resistance groups in Gaza to continue firing rockets into Israel despite cease-fire, says high-ranking Jerusalem official.
"Iranian military experts are active in the Gaza Strip and in Sinai, according to a high-ranking official in Jerusalem. The official said the Iranians entered the areas via Sudan and Egypt, and added that some of the rocket-launching systems in Gaza were manufactured under Iranian supervision." Haaretz.com, March 19
The paper went on to say how shocked members of the Israeli left were with the overall theme of the article announcing a unified Israel in support of an attack on Iran.
Of course, any attack is so crazy on so many levels, it is exhausting to comprehend. Aside from the potential collapse of the world economy and the pervasive suffering, let's focus on a sure fired reason that the United States won't green light such a move.

It's the quadrennial festival of democracy in the United States, also known as the presidential election. President Obama should be on his way to retirement based on his record of indifference to the public and preference for the financial elite. He has a second chance thanks to the sorry state of the Republican candidates.
The last thing he'll do is infuriate the pubic with another useless foreign adventure. Big majorities want the troops out of Afghanistan immediately and oppose military intervention in Syria. The message is clear. An attack on Iran is far too risky to Obama's future to allow.
However, presuming rational decision making by the political and financial elite is risky business. In the case that cooler heads lose this struggle, here is the rationale for war from Israel's ruling faction.
The pretext - Iran talent and hardware targets Israel
Haaretz tells us that Iranian engineers are on the ground in Gaza helping a small Salafist group called Islamic Jihad and other unnamed groups. The engineers allegedly brought special missiles which compounds Israel's problems. The claimed increased level of attacks reflects Iran's frustration with tighter sanctions, including a cutoff from international currency transfers, and Iran's desire to thwart reconciliation between Hamas and the Palestinian Liberation Organization (PLO).
The analysis leaves out a few key facts. Islamic Jihad (Palestine) is a very small organization. Summaries of past terrorist activities focus on bombings, suicide and others. There is no mention or rocket attacks in articles published by the Council on Foreign Relations and a Wikipedia article. There are no rocket attacks listed.
The PIJ [Palestine Islamic Jihad] often carries out suicide bombings that target civilians and military personnel, although the frequency of attacks inside Israeli territory has decreased since the construction of security barriers around Gaza. Council on Foreign Relations, April 10, 2008
Islamic Jihad doesn't have the resume for rocket attacks against Israel but it does meet the essential criterion: it is closely identified with Iran.
Who are the other "popular groups"?
Based on its history of support from Iran, one would suspect that Hamas is one of the "popular groups" Haaretz alludes to as behind the rocket attacks. That history was altered recently when Hamas supported Syrian rebels in their efforts to oust the current government.
"A leader of Hamas spoke out against President Bashar al-Assad of Syria on Friday, throwing its support behind the opposition and stripping Damascus of what little credibility it may have retained with the Arab street. It was Hamas's first public break with its longtime patron." New York Times, February 24
At the very least, as the governing authority in Gaza, Hamas supports the attacks by allowing them. Its motivation may have more to do with its anti-Israel than its fealty to Iran, a patron it deserted on Syria in favor of the United States, Great Britain, and the Arab oil plutocrats.
Rocket attacks have accelerated, according to the Israel Defense Force. In the past few days, 200 rockets were fired at Israel (compared to a peak of 170 in August 2011). Israel is now in better shape to handle the attacks due to a program called Iron Dome. The missile defense system boasts a 75% to 90% success rate at intercepting and defeating missiles in the recent reported salvo of 250 rockets from Gaza.
Back the pretext for attacking Iran
Firing missiles at Israeli population centers is a barbaric act. It was also barbaric when Israel invaded Gaza in 2008 using disproportionate force and attacked Lebanon in 2006. In the Middle East, there's always a barbaric act that justifies the subsequent act by any actor (except the totally unprovoked and illegal Bush-Cheney invasion of Iraq). Each side claims justification and blames the other for killing and maiming civilians. People are maimed and die, nonetheless.
Maybe Islamic Jihad-Palestine has grown significantly and now features rocket attacks. Maybe Iranians are in place coordinating them. Maybe Hamas is sitting idly by, as the governing authority in Gaza, and has a major responsibility for the attacks. But why are we seeing the sudden outrage by the Israeli "left" and Netanyahu when the Iron Dome defense is claiming 75% to 90% effectiveness (which does not excuse the culpability of those who fired those rockets that get through)?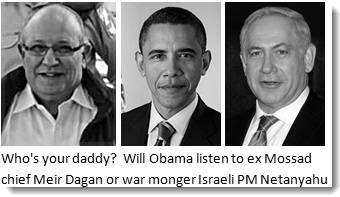 We may be saved the dire outcome of an attack on Iran by the man who ran Mossad from 2002 through 2011. Amidst the rush to war represented by Netanyahu, Meir Dagan, former head of Mossad, issued a caution:
"Former Mossad chief Meir Dagan said that an Israeli strike on Iran would lead to a missile attack on Israel that would have a 'devastating impact' on the country, in an interview that aired Sunday on CBS's 60 minutes.
"According to Dagan, an attack will start a regional war. 'And wars, you know how they start. You never know how you are ending it,' he said. "Haaretz.com, March 13 (Images: WikiCommons)
Brian Downing predicted that cooler heads were operating in the Israeli establishment a few weeks ago. Commenting on the Dagan 60 Minutes interview, Downing noted:
"The significance of his [Meir Dagan's] television appearance yesterday is considerable. It would be as if a respected former CIA or military chief had come forward in early 2003 and expressed deep skepticism over the case for invading Iraq and a major network gave him the opportunity to do so." Brian M. Downing, March 13
There's no point hoping for a happier past. But the opportunity for a sane present based on rational analysis and humanistic considerations is a welcome event. Seeking the truth is infinitely more productive than fabricating a delusion to serve a cause that serves no one at all, even the partisans who advance that cause.
END
This article may be reproduced with attribution of authorship and a link to this article.