Decline and Fall ... (Maybe) Dec 13
UPDATE Monday evening, Dec 13. The Senate passed the Obama tax cuts (including Social Security roll-back). Sen. Bernie Sanders stayed on the bench; no real filibuster. SEE MORE in the article. Will the Obama betrayal on Bush era tax breaks and Social Security funding fly with the Democrats? It's a big question. (They did). If the Democrats squander the final chance to serve the people in the lame-duck Congress, they will have no where to hide. It will be abundantly clear that there is only one party, The Money Party, that calls the shots. (It did again, today.) There was "not a sound to be heard" in opposition.
UPDATE: The Senate passed a "cloture" resolution limiting debate on the president's proposal (aka sell out) to give millionaires huge tax breaks and hammer the people by putting Social Security at risk. That assures passage of the legislation in the Senate. Sen. Bernie Sanders had a Show Filibuster last Friday but it wasn't for real. Today -- before the "cloture vote" -- would have been the time. Bernie benched himself and his gal pal, Sen. Mary Landrieu, who helped last Friday, said that filibuster was "only for the tax cuts for millionaires, not the entire package." That's some nice double speak from Sen Landrieu. Sanders, well, he's probably taking a liesurly shower to avoid post-game inquiries from sleep walking reporters.

SOCIAL SECURITY THREAT: This is a big week for the decline and fall of our society. It's not like we've bet the ranch on the Senate vote on the Obama tax compromise/cave in. But the proposal may be the beginning of the end of Social Security as we were promised it. Obama made a deal for a one year tax holiday on the employee contribution to Social Security. It will go from 6.2% to 4.2% for a year. Supposedly, it will be restored in 2011. Since even Republican Senators (Corker-TN and Johanns-NE) are warning that this is a huge risk, let's assume that the Republican majority behaves as it did on the Bush era "temporary" tax cuts.
They'll say that the end of the tax holiday is really a tax increase. With their veto proof majority in the House, they'll make it work. Then in a couple of years, Peter Peterson, soon to be former President Obama, and the rest of the Money Party chior will say in unison - "Social Security is going to be broke." They'll fail to mention that they made this so. Then we'll have those privatized accounts and Wall Street will make another killing. Forget retirement, forget what you paid in. You will be screwed.
Here's the contact information for the US Senate. Let your two know enough is enough.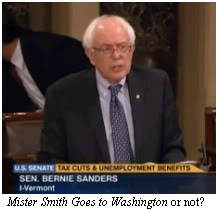 Bernies Big Day: Senator Bernie Sanders had a sort-of filibuster in the Senate last Friday. He was eloquent and precise in describing the threat to Social Security and the nation in general from the president's sell out on Bush era taxes. It was quite something and he even got help from conservative Democrat Sen. Mary Landrieu (D-LA). But the real test is today when the Senate considers the compromise. That's when a real filibuster can and must take place to stop the sell-outs from harming Social Security and enshrining huge tax give aways to the super rich. If Sanders actually filibusters to stop this atrocity, that will be of great service. If he doesn't, well, lets see what he does.
Whether it is Bernie Sanders today or someone else tomorrow or the next day, there will be the first major act of rebellion in the war by the financial elite against the rest of us.
Good luck Senator Sanders. We need a jolt and a ray of hope (forget the "change" stuff, the concept is tainted for the time being).
Wikileaks: It's now the season for Senate hysteria. This week, it features the Democrat in name only, Sen. Barbara Feinstein of California. She just wrote an editorial for the Rupert Murdoch owned Wall Street Journal where she called for prosecuting Wikileaks spokesperson Julian Assange under the Espionage Act. She doesn't know what she's talking about (and probably doesn't care). There are strict limits on denying free speech and, oh by the way Senator, Assange is a citizen of Australia. This came in the same week that the US State Departmenet announced a celebration of World Press Freedom Day. How diplomatic!
Early Admissions: All across the country the most motivated high school seniors will receive notice about early admission applications to college. This process secures early notice of acceptance for the student and helps colleges assure admissions to their most preferred applicants. While there will be disappointment along with joy, the phenomena of early admissions and continued efforts to get in college speak very well for this generation of students. They know that there are no jobs guaranteed (no net new private sector jobs since 2001). They know that the country is run by the greedy who allowed student loans to turn into burdensome challenges. Nevertheless, they persist in their quest to get as good an education as they can. Congratulations to all who tried for early admissions. If you didn't make it, keep trying.
END
This article may be reproduced in whole or part with attribution of authorship and a link to this article.