Goldman Sachs Investor Buffett Thanks "Uncle Sam" for Bailout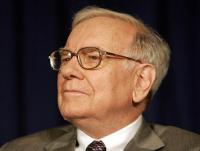 Michael Collins replies to Warren Buffett's condescending thank you letter to "Uncle Sam."
The peoples' oligarch Warren Buffett just wrote a thank you letter to "Uncle Sam" published in the New York Times. It is the height of cynicism. (Image)
Buffett has a carefully crafted public image as a brilliant but people-friendly master of investments. We hear about his regular table at an Omaha diner where he conducts business (just plain Warren) and we see his occasional public stands for reasonable policies like the inheritance tax.
He claims that "Uncle Sam," the government, saved us from a financial catastrophe that would have swallowed up his company. He then endorses the notion that the housing bubble was based on "mass delusion" - meaning it was our fault. But he forgets to mention that he took advantage of the 2008 crisis to purchase a $5 billion interest in Goldman Sachs. And he forgets whose money "Uncle Sam" stole from the Treasury to save him and the rest of his cronies. What a hypocrite.
"Uncle Sam" isn't the government. The "government" is the perpetually bought and paid for chief executive, Congress, and judiciary that Buffett and his pals manipulate at will. "Uncle Sam" was never going to do anything different than what it did -- bail out Wall Street and the ultra rich with our money. Buffett is really thanking himself and the other few who own Uncle Sam. He knows better. Thus, his letter is the ultimate expression of profound contempt for the people.
Would the economy have crashed? Again, more cynicism. The big banks and Wall Street grafters would have taken a dive. But the nation would have survived, without a continuation of the same scams in place to do more damage in the future.
If Buffett is really grateful for the assistance of Uncle Sam, he'll return every single penny of profit he made off of the sweet Goldman Sachs deal (70% profit) due to a national crisis. Accepting Mr. Buffett's incorrect assumption that we were about to go down for the count, keeping profits gained due solely to that crisis belies the gratitude he expresses to his uncle.
The people's oligarch just spat on the people and thinks no one will get it. Quite the contrary, Mr. Buffett. You are no different than Goldman Sachs and the other exploiters funded by the hard work of everyone other than those who reap the benefits of that work.
Thank you for exposing yourself as the last idol with clay feet, the ultimate in cynical contempt for the people who continue to struggle in a system that you glorify.
Michael Collins focuses on clean elections and voting rights. He is the publisher of the web site The Money Party. His Scoop Independent News articles can be found here.
This article may be reproduced in part or in whole with attribution of authorship and a link to this article.