Charter School Renamed in Honor of California's Governor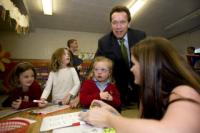 Gov. Arnold Schwarzenegger and First Lady Maria Shriver were attended a renaming of a CHIME charter school in Woodland Hills, Calif., to CHIME Institute's Schwarzenegger Community School. Gov. Schwarzenegger has doubled the number of charter schools in California, from 435 to 817 .
Los Angeles, California -- Tucked away in a cozy corner of greater Los Angeles is the suburban community of Woodland Hills. Its claim to fame is that it's the hottest and coldest section of Los Angeles and now home to the CHIME Institute's Schwarzenegger Community School, renamed from CHIME Institute in honor of California Gov. Arnold Schwarzenegger.
Coming into existence in 2001, CHIME is a unique K-8 charter school that is known for its diversity that includes students of all degrees of intelligence, handicaps and abilities, from the gifted to the disabled to learn side-by-side in the same classroom.
"It doesn't matter how many Mr. Universes or Mr. Worlds you win ... it is a very different kind of honor to have a school named after you," said Schwarzenegger, a former bodybuilder and actor, during the renaming ceremony.
"I promise to visit, to pay attention ... I can promise you that I'll be back," the governor said using the catch phrase made famous in one of his Terminator movies.
Schwarzenegger and his wife, Maria Shriver, have long been advocates for a strong educational system and trying new approaches to teaching. CHIME has repeatedly proven to work with its students achieving some of the highest test scores in the state. One proud parent, Sally Tsong, approving of the idea to rename the school, said she thought that as a bonus, any student who learned to consistently spell the governor's name correctly and avoided calling him "Aaarnold" should get an automatic "A."