Companies Rushed Special Dividend Payments Before Tax Increase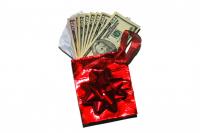 With the fiscal cliff here and higher taxes looming, many corporations, including pharmaceutical companies, are issuing dividend checks to investors early in order to beat the higher tax rates. The Bush dividend tax rates - capped at 15 percent - are set to expire on December 31, 2012. If no changes are made, dividends will be taxed at the same rates as wages.
One analyst said more than $21 billion in special dividends had been promised by the end of November.