Airport scammers or scanners?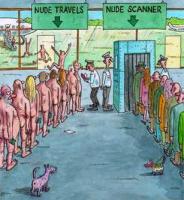 Full body scanners were offered as a quick-fix solution to show the government is responsive to terror threats, but the technology carries many unresolved issues.
Plenty of people have misgivings about full body scanning technology. Some doubt its effectiveness in preventing terrorist attacks, others believe it's an invasion of privacy, some think it will increase racial profiling and preliminary studies by physicists suggest the full body scanners, which employ non-ionizing submillimeter microwave radiation, may introduce serious health risks for travelers.
Despite a marked absence of thoughtful analysis of either the technology's safety or effectiveness, full body scanners are coming to an airport near you. With 19 already in place, the Department of Homeland Security intends to have 300 scanners installed by the end of the year and President Obama's budget request for nearly a billion more for 1,000 additional scanners is a slam dunk. No one in Congress wants to be accused of standing in the way of America's security, particularly in an election year. (It matters not that they voted overwhelming against full body scanners just last year.)
Despite its $43 billion price tag, the DHS has yet to prove it's a worthwhile investment and not just a heavy-footed elephant stamping out civil liberties.
The DHS was the brainchild of former president George (Junior) Bush. It was created during the chaos after 9/11 ostensibly to improve information sharing between America's information gathering agencies. Among other promises, such as preserving civil liberties, the agency was to coordinate the flow of information between federal agencies and between local and federal law enforcement through "fusion centers." It was to be an ombudsman of spook liaison-ship.
As became blaringly apparent in the days following the attempted detonation of an explosive aboard an international flight bound for Detroit last Christmas, the agency has failed to rise to its mission. An agent in a Washington, D.C. office quietly sat on the information that Umar Farouk Abdulmutallab was a terror risk to the United States. The information had come from an extremely reliable source. Abdulmutallab's own father had personally warned the U.S. embassy in Abuja, Nigeria, about his son's growing anti-American sentiment and his intent to do harm, and soon.
Perhaps if the agent had alerted someone in another agency, ideally someone like former FBI agent-turned-whistleblower Coleen Rowley, Abdulmutallab might have been tagged on the 1.3 million strong terrorist watch list, a good share of them added without any apparent rhyme or reason. If there was a reliable, meaningful no-fly list he would have been frisked, his background checked, and he would have been thoroughly inconvenienced and interrogated for hours like so many others on the list. Maybe an alert TSA would have prevented him from boarding the plane. Thwarting Abdulmutallab's plan before he got on the plane could have given a touch of legitimacy to the watch list.
Instead, in a move that is starting to feel familiar, the government is throwing more money at the department that was created to prevent the sort of incompetence that it just displayed.
So -- like it or not -- full body scanners are here. They come as a quick-fix solution to show the government is responding to terror threats, but with many unresolved issues.
Privacy issue: It's a virtual strip search
Apparently, the scans are more revealing than Janet Napolitano, the current Homeland Security chief, and Michael Chertoff, the first security czar who pushed for them, are letting on. The images are high resolution and crisp enough to reveal genitalia.
If you're a vain person that travels a lot, you might want to start that diet and fitness program today because Transportation Security Administration staff are going to see you without your clothes on. On the other hand, if you look like you might have rolls of midriff fat, saggy breasts and small reproductive organs it might win you a pass-through wave by TSA staff. Not so fast if you're a shapely woman or a buff-looking man.
Currently, U.S. citizens can opt-out of the scan and instead "receive an equal level of screening and undergo a pat-down procedure," according to TSA's website. What, exactly, is this alternative screening that's on "an equal level" with being viewed without your clothes on?
The TSA says only 10 percent of travelers through the 19 U.S. airports that already have body scanners have bothered to find out. A testament to Americans' acceptance of full body scanning, says the agency. Or maybe they were just feeling lonely.
That's quite a choice.
Cub Scout Mikey Hicks, an 8-year-old on the passenger watch list, received his first TSA pat-down when he was 2 years old. The experience made him cry, his mother told the New York Times.
"Up your arms, down your arms, up your crotch — someone is patting your 8-year-old down like he's a criminal," Mikey's mom told the Times. "A terrorist can blow his underwear up and they don't catch him. But my 8-year-old can't walk through security without being frisked."

Speaking of children, the United States might want to follow Britain in exempting children under 18 from the scans. Britain's 1978 Protection of Children Act makes it illegal to create an indecent image or a "pseudo-image" of a child. Child protection advocates think the scans will tempt pedophiles to distribute childrens' images to the child pornography market.
Yes, they are that revealing.
After airport staff at Heathrow airport printed out sexy body scans of Shah Rukh Kahn, the Bollywood star reportedly autographed some for the fun-loving fans.
"I'm always stopped by the security, because of the name," Khan said during an appearance on British television.
"I was in London recently going through the airport and these new machines have come up, the body scans. You've got to see them. It makes you embarrassed - if you're not well endowed." Such a braggart.
Whole body scanners can "record, store, and transmit digital strip search images of Americans," according to the Electronic Privacy Information Center (EPIC) which received information from the DHS through Freedom of Information Act requests. In its technical specifications and vendor contracts, TSA specified that the scanning devices must have hard disk storage, USB access, and Ethernet connectivity. That's curious since DHS has assured the public that it will not save, store, upload or transmit the scans.
"Computer processing partially obscures the image that is available to operators," says the EPIC. "TSA states that the agency will delete the raw images, but there is no law or regulation that prevents the agency from saving the original, detailed images."
Safety issues
While Britain and the Netherlands have already installed full body scanners, most European countries are waiting to dive in until there's been more analysis of health and privacy concerns. The EU report is expected to be completed in April.
The safety concerns arise from the use of backscatter X-ray systems, one of two types of scanners used for screening passengers. These $100,000 machines, similar in size to a stand-up tanning booth, use "backscatter" technology, which bounces low-radiation X-rays off a traveler to produce high resolution images that makes clothing transparent.
The other type of body scanner uses millimeter wave technology. The TSA website explains that the "machine beams millimeter wave radio frequency (RF) energy in the advanced imaging spectrum over the body's surface at high speed from two antennas simultaneously as they rotate around the body."
No one pushing for widespread use of these machines expects that the low level radiation from the scanners will be harmful. But the result of repeated exposures to the technology has not been studied. Even at extremely low doses radiation accumulates in the body. How much is too much?
A study published this month in Physics Letters journal suggests that terahertz (full body) radiation exposure could interfere with gene expression and DNA replication.
Commenting on the paper, Physics arXiv blog wrote that "Alexandrov and co have created a model to investigate how THz fields interact with double-stranded DNA and what they've found is remarkable. They say that although the forces generated are tiny, resonant effects allow THz waves to unzip double-stranded DNA, creating bubbles in the double strand that could significantly interfere with processes such as gene expression and DNA replication. That's a jaw dropping conclusion....a new generation of cameras are set to appear that not only record terahertz waves but also bombard us with them. And if our exposure is set to increase, the question that urgently needs answering is what level of terahertz exposure is safe."
Racial profiling
After the Christmas near-detonation the TSA labeled 14 countries as "state sponsors of terrorism" or "countries of interest." People traveling from or passing through Afghanistan, Algeria, Cuba, Lebanon, Libya, Iran, Iraq, Nigeria, Pakistan, Saudi Arabia, Somalia, Sudan, Syria, and Yemen will be subject to enhanced screening the TSA said. Enhanced screening may include full-body pat downs, thorough bag searches, and body scanners.
In addition, airport security workers are being given additional training in profiling. Travelers exhibiting "certain behaviors" or holding a suspicious appearing bag will be subject to intensified screening. Looking like they might belong to one of the "countries of interest" is also cause for enhanced screening.
Effectiveness questioned
Security experts and others knowledgeable about the capabilities of full body scanners have expressed doubts about the scanners' effectiveness. Ben Wallace, a member of the British parliament who at one time worked for a defense contractor who made body scanners, said it was unlikely that a scanner would have revealed the explosive powder Abdulmutallab had hidden in his underwear.
We've been aware for years that drug mules have smuggled toxic amounts of narcotics drugs into the country by carrying them in body crevices and by swallowing drug-filled balloons. Why wouldn't a suicide bomber transport explosives the same way? What do they have to lose? They're suicide bombers.
Scott Stewart, vice president of tactical intelligence at Stratfor, a global security company, said terrorists will figure out a way to outmaneuver the technology. He told TIME magazine that use of full-body scanners will divert limited resources away from proven measures like training airport staff to "detect suspicious behaviors in would-be attackers before they board planes."

Get back to the basics
The introduction of full body scanners is going to introduce a host of new problems: scans of children and adults being leaked on the Internet, diplomacy setbacks, humiliation, law suits over privacy infringement, loss of tourism dollars and possibly health effects down the road. It's just more diversion from the stated goal of preventing acts of terrorism.
We'll never be successful at preventing terrorist attacks until the government puts an end to the spook turf wars. It could be that there are just too many government agencies (and contractors) focused on high tech surveillance to be effective.
If specialized information gatherers won't analyze and share the information that comes from foreign embassies with the law enforcement official across the street, what is their value?
Anthony Romero, executive director of the ACLU, stated it quite well: "Our limited security resources should be invested where they will do the most good and have the best chance of thwarting attacks, and that means developing competent intelligence and law enforcement agencies that will stop terrorists before they get to the airport."