A bright future for environmentally friendly nature films?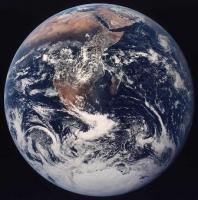 The recent upsurge in the production of eco-friendly films seems to signal a growing awareness in the cinema industry of their potential market and people's concerns about the environment.
If you take a look at current and upcoming film releases, you will notice that there are more and more eco-friendly films either already being shown or due for release in 2010 and even beyond.

French film makers are particularly active in this field, and so are Americans, in the form of....a name we all know well.

Here's a look at what some of the better known films are about and who made them.

First up is "The Age of Stupid," a drama-documentary-but-with-animation-too which tells the story of a man living alone in the half-destroyed world of 2055 who, in an effort to understand what happened to the planet, studies footage from 2008 and just can't understand "Why we didn't stop climate change while we had the chance."

A crowd-funded film, it premiered in London, England, in March this year, and was released internationally at the "Global Premiere," Sept. 21-22.

I suppose it would be fair to say that anyone who doesn't think that "The Age of Stupid" addresses issues must be reading this article from another planet.

"Home" is a film by two Frenchmen, director Luc Besson ("Nikita," "The Big Blue" aka "Le Grand Bleu") and Yann Arthus-Bertrand, who conceived and wrote it.

It came out earlier this year and can be seen in cinemas as well as on the Internet. A beautifully aesthetic film, it demonstrates how man has made the environment and the climate suffer and what the consequences of that are. It consists entirely of images taken from the air or from space.

Next is "The Cove." Directed by Louie Psihoyos and general-released at the end of September, it is a harrowing exposé of the annual slaughter of around 1,300 dolphins in a cove at Taiji, Wakamaya, Japan.

The film was shot secretly by ex-dolphin trainer Rick O'Barry who risked being killed if he had been discovered by the fishermen. He hid his cameras behind artificial rocks in the cove's waters.

The film won the U.S. Audience Award in January 2009 at the 25th annual Sundance Film Festival in Park City, Utah.

Back to France and the documentary "Oceans," which was filmed on and under the surface of the world's seas and oceans. It is said to be breathtakingly beautiful as well as a highly informative look at the current state of seas, oceans and their inhabitants. It took four years to shoot and includes contributions from scientists and oceanographs. French producers Jaques Perrin and Jaques Cluzeau steered the whole project, which is scheduled for release early next year.

Another French effort, "Le Syndrome du Titanic," is not about the Titanic itself, well not directly, and it doesn't have an English name yet either as far as I know, but I'm sure it soon will.

A very intriguing idea, it likens our attitude towards the planet to that of the Titanic crew's band and those passengers who listened to them play their music in jolly fashion whilst the ship was literally going down beneath their feet. In other words, trying to appear to be totally oblivious to the reality of what was going on and of any chance thay may have had to save themselves.

It promises to be a very hard-hitting film, given that its director is Nicolas Hulot, a well-known and vociferous French ecologist who made all candidates at the last French presidential election promise to do something about the ecology or face the wrath of the voters. He was able to do that because he has an enormous following in France amongst Green voters.

"Le Syndrome du Titanic" is to be released later this month.

This flurry of eco-friendly films is surely going to continue, particularly with America as a contributor. And who says America is a contributor? Disney
says so.

Disney, in the form of its recent creation, "Disney Nature," is getting onboard the eco-train big time and, if anyone needed proof that eco-friendly films have a future it's the fact that Disney plan two major films in 2010 and one is even slated for 2012. The company says its speciality will be big-screen nature documentaries.

Early 2010 will see the release of a documentary film relating the story of a female orangutan raising her baby in a forest in Borneo. The forest is being devoured by development and the orangutans in it are threatened with extinction.

Later next year comes a film study of the world of flowers and all those pollinating species which are both essential to the eco-system.
Finally, Disney Nature has sheduled a 2102 release for a film about the need to protect chimpanzees from exploitation and dangerous drops in population levels due to their being infected by virulent human diseases.

Ok, Disney Nature is not Greenpeace and their executives are not best known for hanging precariously off the walls of nuclear power plants or zipping across the bows of nuclear waste-carrying ships, but their initiative should be applauded anyway.

So there seems to be enough there to reasonably hope that the future growth of environmentally oriented films is assured. It's more than about time that the film industry awoke to its responsibilities in terms of providing information to the general public on environmental issues.

So what's your pick of the films discussed above?

I'll tell you mine. It's obviously got to be...Oh darn, the phone's ringing....