Neuro Scans
This scan includes briefs on new stem cell policies, the drug modafinil that has been used by the U.S. military to keep soldiers awake, a new concensus report on brain death, and fun at the American Academy of Neurology annual meeting.
Stem cell ban lifted but researchers must remain vigilant to protect scientific integrity
Earlier this month, President Obama through executive order lifted the ban on federal funding for embryonic stem cell research.
The ban put in place by President Bush in 2001 limited research funding to approximately two dozen existing embryonic stem cells lines. The ban was viewed as politically motivated by many researchers and the public which overwhelmingly favored increased research that might lead to cures for diabetes, Alzheimer's, Parkinson's, spinal cord injuries, and other neurological disorders. Some researchers insist America has lost almost a decade of research time that could have resulted in medical advancements. A possible silver lining to the ban is that many researchers developed new partnerships with colleagues in foreign institutions in order to continue their research.
With the lifting of the ban, hundreds of lines developed since 2001 will be eligible for federal funding. Obama science advisor Harold Varmus, president of Memorial Sloan-Kettering Cancer Center in New York and former head of the National Institutes of Health, recently co-authored an editorial in Science on Obama's stem cell research and scientific integrity policies (registration required). In the editorial Varmus encourages scientists to stay involved in policy discussions because preserving scientific integrity in a highly politicized environment will require vigilance.
When lifting the ban, Obama also pledged through a memorandum to appoint only credentialed experts to federal positions that involve evaluating scientific information.
Wakefulness drug modafinil may be addictive
Modafinil (Provigil), approved by the FDA for the treatment of narcolepsy, has also come into wider use as a cognitive performance enhancer as it was generally believed to be a safer alternative to amphetamines. A recent study by NIH and collaborating institutions published in JAMA, however, found that the drug blocked dopamine transporters and increased dopamine in the brain. These changes in the brain's pleasure center could lead to dependence and abuse, say researchers.
Using positron emission tomography (PET), researchers measured the effects of 200 mg and 400 mg, common therapeutic dosages given in pill form, on extracellular dopamine and on dopamine transporters in 10 healthy male brains.
The study is preliminary, given such a small sample, but the findings warrant further study, especially since modafinil has been approved for use by the U.S. military beginning in 2003.
Approved initially for certain Air Force personnel, returning Army and National Guard soldiers have said the drug is readily available to those in combat situations, and clinicians have concerns that returning soldiers may have developed a dependency on the drug. The drug is also increasing in popularity among college students and others who say the drug improves performance, enhances mood and allows better concentration.
Citation:
JAMA. 2009;301(11):1148-1154.
Closer to a consensus on when brain death occurs?
The medical community, particularly neurologists, have been grappling with the definition of brain death and striving to reach a consensus on when brain death occurs for decades. JAMA first published a landmark article that quantitatively defined the clinical and laboratory criteria used to measure the presence of brain death in 1968. But different protocols at different institutions left openings for disagreements and legal entanglements.
The work took on new urgency in 2005 when the Terry Schiavo case became a national political wedge issue. Not limited to medical experts and ethicists, the case galvanized religious activists, conservative politicians, and celebrities who grandstanded before an eager media.
Adding to the high drama, President Bush made a midnight flight from his ranch in Crawford, Texas, to Washington, DC, to sign a law passed by an emotionally charged Congress that forced doctors to re-insert the feeding tube that had kept Schiavo alive in a vegetative state for 15 years. After all Congressional and legal maneuvers were exhausted, Florida judge George Greer ruled that Schiavo could be removed from life support as her legal guardian had requested for seven years. Schiavo died from dehydration on March 30, 2005.
After intense study, an ad hoc committee of experts from Harvard Medical School has just issued a new definition on when brain death occurs: Consciousness, Coma, and Brain Death—2009, A Definition of Irreversible Coma: Report of the Ad Hoc Committee of the Harvard Medical School to Examine the Definition of Brain Death. Will it be the final word?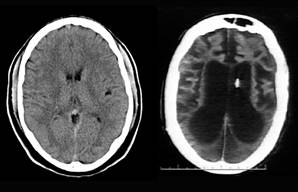 Left: CAT scan of normal brain. Right: Terri Schiavo's 2002 CAT scan provided by Ronald E. Cranford, MD, then assistant chief of neurology at the Hennepin County Medical Center, Minneapolis. (The image is fair use, since the doctor released his image to the public.)
Wrapping it up with a bow tie workshop
The American Academy of Neurology, known for hosting an intense dawn to dusk (and beyond) annual meeting, is gearing up for its 61st in Seattle, April 25-May 2.
While the conference attendees work hard, they also know how to have competitive fun at the wildly popular NeuroBowl quiz show and Neuro Idol talent show. The organization does, on occasion, poke a little fun at itself.
This year the AAN is hosting a "bow-tying" booth at the meeting in honor of the bowtie which, along with pale blue blazers, is ubiquitous among neurologists.
I'll be attending the meeting and filing stories for some free lance clients and doing some news blogging from the meeting here on Flesh & Stone.