Chimney of 1920s landmark building in Los Angeles is for the birds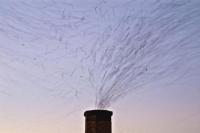 Naturalists, ornithologists and just plain ol' bird watchers said the abandoned brick chimney of an iconic vintage building in downtown Los Angeles is a somewhat unusual place for Vaux's swifts to hunker down for the night after a day of air-borne foraging for insects while migrating north.
About two dozen naturalists stood enthralled last night while watching thousands of small birds dive-bomb into the 12-story chimney of Los Angeles's 84-year-old Chester Building. The building is believed to be one of the most populous roosting places in North America for migrating Vaux's swifts.
"That chimney is a good place for them to sleep," Kimball Garrett, ornithology collections manager of the Natural History Museum of Los Angeles County, told the Los Angeles Times. "They spend all day feeding on nice hatches of insects blown skyward by updrafts along the Los Angeles River and Elysian Park area. At nightfall, they all come together to roost in the same safe resting area."
Vaux's swifts -- 4-1/2-inch long brown birds with white underbellies and long, crescent-shaped wings -- are believed to be at the peak of their northward migration from wintering grounds in Mexico, Garrett said. At winter's end they head for breeding grounds as far north as Alaska, while others summer in Washington, Oregon and southeastern British Columbia.
If they had their 'druthers, swifts would opt for resting in hollowed out old trees. It's a mystery as to why they've chosen to move to various chimneys over the past 20 years.

The choice of chimneys may be due to loss of natural habitats along with old dead trees.
But soon there may be a shortage of chimneys as well, as many are being torn down, because they don't meet new earthquake codes.
New industrial and office building chimneys must be made from steel or other metal, and the swifts can't gain a claw-hold, therefore opting for the old concrete and brick structures, Audubon Society members said.
The only down side to nature's spectacle that began around 7:30 p.m., was swifts being snatched out of the air by hungry ravens that were flying-in-wait for a chance at grabbing an in-flight dinner with their beaks. Perhaps it was nature's way of balancing things as both species feast on the fly.
That aspect of the migration event made some viewers unhappy, but others maintain that ravens have the right to eat, too.
Chapman Elementary School in Portland, Oregon, claims to be the largest known swift roost in the world, with more than 30,000 Vaux's swifts descending on the school (see YouTube video) every September.