Gulf sea creatures and birds struggle to survive spreading oil
Nowhere to hide. Ocean wildlife are going against traditional instinct to survive, and opening up new risks. Wildlife biologists weigh in on whether it is better to clean or euthanize an oil-damaged bird.
Ocean creatures may be smarter than we think they are, or they're following their instincts by migrating from the fetid waters of the Gulf of Mexico to cleaner shallows along the coast of Florida.
"A parallel would be wildlife running to the edge of a forest on fire," said Larry Crowder, a Duke University marine biologist.
Unfortunately, their efforts to save themselves may also be a different cause of their demise.
By moving from their natural habitats to safer ones, they not only make themselves more easily accessible to predators, but they consume vast amounts of oxygen depleting the natural supply, both of which spells their doom.
Associated Press writers Jay Reeves, John Flesher and Tamara Rush explain what is happening in this article published June 17.
Numerous bird rescue groups and volunteers quickly mobilized after the late April explosion of the Deepwater Horizon oil well which continues to spew an estimated 60,000 gallons of oil into the Gulf each day, according to the latest esitmates. There's no end in sight.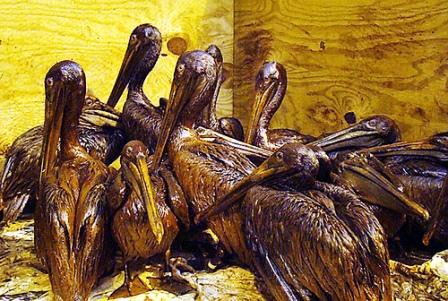 Brown pelicans at Grand Isle, Louisiana, after the BP oil spill. Image courtesy International Bird Rescue Research Center
National Geographic surveyed wildlife biologists to find out how well rehabilitation of oil-injured birds has worked in the past.
Nils Warnock, a wildlife specialist with the University of California - Davis Oiled Wildlife Care Network said each oil spill is different and that survival rates are affected by the climate, species and other factors. The oil is toxic to the birds internally and externally.

J.V. Remsen, ornithologist and professor at the Louisiana State Department of Biological Sciences in Baton Rouge, says claims that 40 to 60 percent of birds can be successfully rehabbed are overly optimistic. "If the rehabbers can convince me that 25-50 percent are going to be successfully cleaned and released back into the environment and not die subsequently and painfully from the oil they have ingested, then OK, let's give it a try," Remsen told National Geographic.
German biologist Silvia Gaus told Speigel Online that the humane thing to do is kill, not clean the birds caught in the oil spill. She said a study of the birds cleaned after being caught in the 2002 North Sea oil spill found that more than 99 percent died as a result of kidney and liver damage from ingesting oil.