'Medicare Meltdown'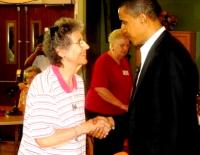 Health care for seniors will take a big hit if Congress can't resolve the impasse over Medicare spending.
A 21 percent reduction in Medicare fees to physicians treating patients relying on Medicare and military personnel enrolled in the TRICARE program for their health care took effect March 1.
While the House of Representatives passed a bill repealing the Medicare sustainable growth rate (SGR) formula which called for the cut, the Senate's attempt to pass a companion bill Feb. 26 failed following a two-day filibuster by a lone senator, Jim Bunning (R-KY). Bunning said he refused to support the bill, part of a $10 billion package that would also extend unemployment benefits, COBRA, and transportation projects, unless the provisions were paid for from unused stimulus funds.
"This drastic cut will hurt our senior, disabled, and military patients, as well as baby boomers who start entering the Medicare program next year," said American Medical Association (AMA) President J. James Rohack in a statement. The steep cuts are forcing physicians to scale back on the number of Medicare patients they treat or drop out of the program entirely, according to the AMA, which called the cut a "Medicare meltdown."
The Centers for Medicare and Medicaid Services (CMS) anticipated after the bill's failure that a deal could still be worked out that would lessen the blow.
If Congress can't resolve the impasse, some doctors may stop taking Medicare patients since costs will be unrecoverable, and millions of unemployed workers will lose their health insurance and benefits.