Dalai Lama and Archbishop Tutu honored for modeling compassion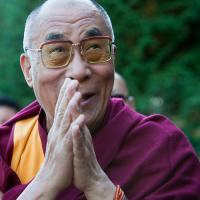 "Given the political and social climate in the United States and around the world, a little more compassion and forgiveness could go a long way to help us to get beyond what divides us and renew efforts for a better day," said Ashley Gorby of the Fetzer Institute.
With that goal in mind, His Holiness the Dalai Lama and Archbishop Emeritus Desmond Tutu were each awarded a prize for modeling love, forgiveness and compassion in a world fraught with wars and economic upheaval by the Fetzer Institute, a non-profit, private foundation at the 2009 Peace Summit held in Vancouver, Sept. 27-29. Each received a $100,000 monetary prize to support their work. A webcast of the program is on the Fetzer website.
"The Dalai Lama and Archbishop Tutu are renowned, revered, respected and loved the world over," said Tom Beech, president and CEO of the institute. "In giving this award, the Fetzer Institute celebrates their humanity and the consistency with which their lives stand for compassion in the face of isolation, love in the face of fear and forgiveness in the face of violence."
The Dalai Lama spoke at the summit; Tutu was unable to attend the ceremony because of a recent back injury. His daughter, Rev. Mpho Tutu, accepted the award on his behalf.
The Fetzer Institute is based in Kalamazoo, Mich.