Report: New mothers gain brain volume in areas responsible for nurturing behaviors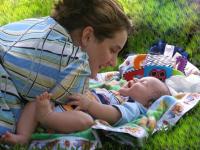 A small study of women in their mid-30s suggests that there's more at work than instinct when a woman becomes a mother.
A Yale University study found that areas of the brain -- associated with maternal motivation (hypothalamus), reward and emotion processing (substantia nigra and amygdala), sensory integration (parietal lobe), and reasoning and judgment (prefrontal cortex) – grew in volume within days after giving birth.
The 19 volunteers were an average of 33 years in age and had 18 years of education. All were breastfeeding, none had serious postpartum depression, and about half had given birth previously, according to researchers. Brain volumes were measured before and after giving birth using magnetic resonance imaging (MRI).
The study was published in the October Behavioral Neuroscience (pdf). Lead researcher Pilyoung Kim, PhD, now with the National Institute of Mental Health, speculates that increases in estrogen, oxytocin and prolactin hormones make new mothers' brains susceptible to "reshaping in response to the baby."
The motivation to take care of a baby, and the hallmark traits of motherhood, might be less of an instinctive response and more of a result of active brain building, according to neuroscientists Craig Kinsley, PhD, and Elizabeth Meyer, PhD, who commented on the research.
Citations:
Kim, Pilyoung; Leckman, James F.; Mayes, Linda C.; Feldman, Ruth; Wang, Xin; Swain, James E. "The plasticity of human maternal brain: Longitudinal changes in brain anatomy during the early postpartum period." Behavioral Neuroscience, Vol 124(5), Oct 2010, 695-700 doi: 10.1037/a0020884
Kinsley, Craig H.; Meyer, Elizabeth A. "The construction of the maternal brain: Theoretical comment on Kim et al." (2010). Behavioral Neuroscience, Vol 124(5), Oct 2010, 710-714. doi: 10.1037/a0021057