Draft dietary guidelines for Americans report open for public comment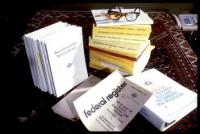 Get your name in the Federal Register.
Public comments are now being accepted on the draft Dietary Guidelines for Americans, 2010 report. The advisory committee's report can be read at www.dietaryguidelines.gov. To see what others are saying about the recommendations, go to the "tracking inbox."

Written comments will be accepted from June 15 to July 15, 2010. Oral testimony may be provided at a public meeting to be held in Washington, DC, on July 8, 2010.
The dietary guidelines are updated and released by USDA and HHS every five years.
The advisory report provides the departments of Agriculture and Health and Human Services "with a strong foundation for preparing the 2010 Dietary Guidelines for Americans which will be released at the end of the year," according to a joint press release issued by the agencies.