UK scientists combine old and new technology to measure volcanic dust cloud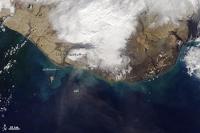 The UK anticipates another cloud of volcanic dust from Eyjafjallajökull will sweep across the UK in the next few days. Going forward, governments and aviation executives will have a better picture of the travel hazards thanks in part to scientists at the University of Reading.
Scientists from the University of Reading, Berkshire, UK, are gathering detailed data about the volcanic dust that have grounded countless planes flying to and from Europe using a technique originally developed for studying Saharan dust clouds.
A probe, actually a miniature laser system, mounted on a weather balloon is gathering data on the volcanic plume and transmitting it to the Met Office, the UK meteorological agency responsible for weather tracking and climate change forecasting. The data is combined with other tracking and measuring systems used by the agency.
The instrument reports the plume's position using GPS and measures not only the particle size and concentration, but its electrical charge, too.
Last weekend Atmospheric Physics Professor Giles Harrison of the Reading department of meteorology, and Keri Nicoll, who developed the charge sensor as part of her PhD project, set up a ground station beneath a dust cloud at Stranraer in southern Scotland.
"To get good measurements of the ash we needed to be both under the ash plume, but in cloud free air," said Professor Harrison. "Fortunately, the Met Office predictions for an ideal observation window at a site near Stranraer were bang on, allowing us to launch our balloon to pass directly through the volcanic plume."
The weather balloon and probe was launched (avi file) at 9 a.m. on Monday morning. It showed a 600 meter-thick layer of dust 4 km high.
The plume contained highly abrasive dust particles, at concentrations of a third of a milligram of dust in each cubic meter. A typical jet engine would ingest some 60 billion of these particles every second, according to the Met Office.
Iceland's Eyjafjallajökull volcano continued to erupt through today, emitting debris up to 13,000 ft. into the air. Weather patterns continue to blow ash towards northwestern parts of the UK, but ash over other parts of Britain and Europe should gradually disperse during the afternoon and evening, according to the Met Office.
Some of the ash may reach the eastern tip of Canada but is unlikely to reach the United States, according to the U.S. National Oceanic and Atmospheric Administration.