Honestly, how much oil is leaking into the Gulf?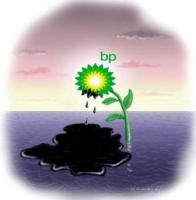 We don't have a clue.
For two weeks oil has been leaking into the Gulf of Mexico from the BP ("Beyond Petroleum," formerly British Petroleum) offshore well following an oil rig explosion.
The National Oceanic Atmospheric Administration (NOAA) experts estimate that 5,000 barrels a day of oil are spilling into the gulf, up from officials' initial estimates of 1,000 barrels.
Independent experts such as Ian D. MacDonald, an oceanography professor at Florida State University, suggest the leak volume could be 25,000 barrels a day, much higher than official estimates.
But the truth may be more than what those responsible want us to hear. BP believes the leak could be as high as 60,000 barrels a day, according to a New York Times report on what a BP executive told Congress members at a closed-door briefing this week.
PBS NewHour created a meter showing how much oil may have leaked into the Gulf based on each estimate. Go ahead and enter your figure. It's anyone's guess.