Will Bill Gates solve the world's energy crisis?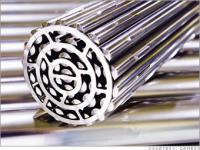 Michael Cosgrove believes in the future of drawing power from nuclear waste, despite its present drawbacks, and is persuaded that Bill Gates has a plan and the right attitude for its future development.
As we all know, a quick look at the history of the world demonstrates that someone always has the happy knack of turning up with a new invention just when we need it.
Take written communication for example. Just as we were inventing our first written languages and we needed something to write them down on, some soul somewhere invented papyrus. Then, at the very moment that there were too many people around to communicate the king's news by using handwriting, which is an agreeable activity but it's also one which begins to hurt your wrist after 500,000 A4 sheets, Gutenberg came up with the printing press. And more recently, just when we were getting fed up with typewriter ribbons, photocopier salesmen and licking stamps, up steps Bill Gates to launch a World Wide Web browser that became the most installed Web browser on the planet.
Well, we are now at a point in history where we desperately need to find a way, or ways, to ensure the future production of electrical power on Earth. And we need that capacity to be high enough to maintain our current living standards as well as creating headroom for future developments and our children.
And we want it all to be clean. No less.
Now that's what you call a tall order, and it needs a lot of ideas, innovation and investment if it's going to happen.
So, ladies and gentlemen, will you please welcome Bill Gates.
Bill Gates was a guest speaker on day two of the 2010 Technology, Entertainment and Design (TED) presentations in Long Beach, Calif., and he devoted some of his microphone time to the future of energy resources and the need for a viable zero-carbon option, about both of which he had some very interesting things to say.
He believes that we should be putting all our tech and technical resources to work on creating new power sources quickly and that ""What we're going to have to do at a global scale is create a new system, so we need energy miracles." So what's his miracle?
Turning spent nuclear fuel into cheap, clean energy, using enormous advances in microprocessing and computers that must be rapidly developed according to "a pretty tight timeline."
But first, and by using an equation, he unveiled his method of illustrating how much carbon dioxide is released into the atmosphere due to human activity, adding that we need to drag one of the equation's factors down to zero in order to solve our carbon dioxide pollution problems. Here it is;
Total CO2= World population x Services x Energy of each service x CO2 per unit of energy.
This theory holds that seeing as factors 1 and 2 will most certainly not reach zero and that 3 precludes zero because of the laws of physics, the only option left is 4, which is CO² output per unit of energy.
The best way of achieving a zero output for that factor in his view is by improving the efficiency of nuclear power by recycling all the leftover waste from reactors into fuel, claiming that the uranium used in just one plant could supply the United States with enough energy for the next two hundred years.
He says that the deadline for a zero carbon emission world is 2050 and that research activity should concentrate on inventing clean-energy technologies over the next twenty years and then move on to putting the theory into practice.
The energy supplied using those technologies would also have to be cheap in order that the whole planet benefit from them, and not just the richer nations, as is the case right now.
But, and because business is business, and because Bill Gates knows that very well, he is putting his money where his mouth is. Terrapower, the name for his idea for a revolutionary way of recycling nuclear waste and reusing it in a power plant, is his means of putting his research money where his mouth is.
One major research track concerns deciding which component of uranium to use to generate power, and he says that instead of burning the 1 percent of uranium-235 found in natural uranium and used in nuclear rods today, his reactor would burn the other 99 percent, called uranium-238. This means that today's massive amounts of waste would be tomorrow's fuel. And there's a lot more of it around.
Gates considers that the potential exists to power the world indefinitely using nuclear power, and he also invoked a "traveling wave reactor" which would burn waste slowly in order to supply 60 years worth of energy to a single reactor and store it there if necessary.
He did mention a lot of other, more technical stuff, but it all went over my head. All I know is that he got a standing ovation at the end of his gig, so it must have convinced somebody.
Now I don't care who thinks what about Bill Gates, or why. Nor am I an expert in nuclear power.
But the plain fact is that we need major solutions to massive problems, fast, and he is the only person I have heard of who is placing his energy into anything like a plausible idea of supplying massive amounts of power to the whole world at relatively little cost, both in terms of pollution and money.
And remember, wasn't Gates' worldwide web browser a means of supplying massive amounts of information to the whole world at relatively little cost, both in terms of pollution and money?
We haven't heard the last of him yet. Not by a long chalk.