Jesse Springer returns as Science Idol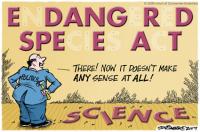 Jesse Springer, graphic designer and part-time editorial cartoonist in Eugene, OR, took the honors in this year's Science Idol contest. Springer won with his cartoon about the Endangered Species Act.
The Union of Concerned Scientists sponsors the cartoon contest each year to draw attention to an issue of concern: political interference in science.
"This is a really tricky time for those who hoped that Obama's election was going to be a start of something new," said Springer, who also won the contest in 2007. "We need to point out the commitments that they made and hold the administration accountable to them.
"The Endangered Species Act is something that hits close to home in Oregon," he told UCS. "Salmon preservation, for example, is related to many issues—water use, energy, economic stability, and so much more. It's important for the conservation planning to be science-based, and for all stakeholders to have a voice."
UCS asked 12 professional artists to submit cartoons that address issues that the Obama administration and Congress need to address.
More than 10,000 people cast votes. Springer's cartoon will grace the cover of UCS's 2010 Scientific Integrity Calendar.